Basketball. Superleague. MBK "Nikolaev" - BQ "Donetsk" - 82:77
Before game
Donetsk "tigers" from the first match after the emergence in a superleague showed "Nordic" character. The Abitsiozny trainer Igors Migliyeniks on means of known bank collected not only strong Ukrainian players and foreign legionaries. All basketball players play very responsibly, accurately realize the drawn-up plans, don't give in to grandees, don't do "discount" to none of the rivals who have appeared below донетчан in standings.
Even the serious trauma of the brightest player of the current season P. Tucker didn't suspend a sure course of team. Quite logically attack донетчан was headed by the American center Owens. Thus at all in the background keep also Alexits whom already during the championship invited from the Riga ASK, and Puerto-Rican playing Rodríguez. On the eve of arrival to Nikolaev to the donetchena signed one more player - Demetrius Alexander. To this forward goes 34-й year, its height of 204 cm. In last season I played for Riga "Barons" and I entered the national team of "other world" in Eurocup All Stars Game match.
The Mnogovektornost of attacks, tenacity of defense at all don't do club impregnable. Nikolayevtsa in this season carried out with донетчанами two equal duels. In both meetings conceded a little, adequately. And, houses - it is rather as a result of search of own mistakes.
Not so much parting with the next legionary disappointment of Montgomery, how many the invitation in structure of our team of Dzharrius Jackson, the former player of same "Chemist", gave hope for lifting. However, the destiny of a match is more all - Gladyrya, Gilevich, Hlebovitski, Onufriyev, Yaylo will depend on a spirit well to all of us known Rajevski. Actually so it also was last Sunday in chock hammered "Hope".

Game
MBK "Nikolaev" - BQ "Donetsk" - 82:77 (22:23, 18:17, 15:17, 27:20) On February 1, Nadezhda sport school, 2000 viewers.
Productivity (points/minutes in game)
GILEVICH
18
35
ALEXANDER
9
33
RAJEVSKI
13
29
ZABIRCHENKO
5
35
BLAIR
8
21
RODRÍGUEZ
17
30
GLADYR
22
33
OWENS
22
32
ONUFRIYEV
13
31
ALEXITS
16
33
Silkovsky
2
6
Krivich
2
17
Hlebovitski
2
14
Urbonas
6
17
Yaylo
0
2
Bogdanov
0
3
Jackson
4
29
Head coach Vladimir FIELDS
Head coach Igors of MIGLIENIKS
Accuracy of throws (threw/got)
2-point
35/17
49/25
3-point
24/13
16/4
Penalties
14/9
25/15
Selections (the шит / stranger)
25/10
22/15
Judges: S. Zashchuk (Kiev), V. Pedyev (Odessa), V. Isachenko (Kiev)
Commissioner R. Ryzhik (Kiev)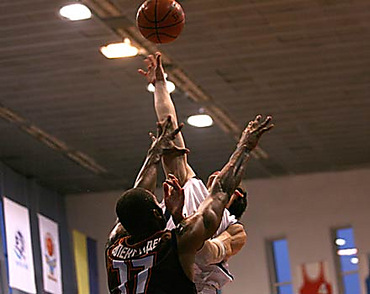 Even the iridescent beginning - 7:2 - didn't suggest an idea, as further at nikolayevets game will go as it is successful, and at guests - wrong way. And it is valid, to the middle of the first period Owens with partners leveled game - 8:9. Only once - after a well-aimed throw of Gladyrya from - for arches - owners of a platform for a while came forward in the account. With the rest of the time only caught up. However, further, than on 4 points, rivals didn't release and a starting piece our team kept "on a wheel" - 22:23.
With a particular interest the overflowed tribunes of Nadezhda sport school watched actions of beginners of teams - Jackson and Alexander. The only attempt for the period to attack the first I greased, and the forward of guests hit the mark from - for arches. After a break they on - former remained as though on the second plan.At nikolayevets Gilevich was played, having brought the personal account to 10 points. But after the successful period Blair ceased to hammer. However, its block - шот inspired on the productive Hlebovitski is bright. At донетчан Urbonas vigorously helped the same Owens. At everything thus teams continued to go level with, and end on the equator of game was put by Gilevich - 40:40.
He after a big break repeated the successful attempt from - for arches. And now guests were compelled to catch up with nikolayevets. However, too not without success. The account several times changed in advantage that of one, other team. And the donetchena a half of the points gathered from the line of penal throws. Whereas nikolayevets for all third period didn't earn any penetrative foul. On 7-й to minute Rajevski intercepted a ball in a zone of guests and itself after short repassing finished attack from - for arches - 53:49! Alas, until the end of the period our team as if was knocked down "by dizziness from success". Guests answered Blair's only exact throw with the whole volley - 55:57.
Now it became clear that an extremely topical ending not to avoid. On the first minute of the final period Gladyr risked to throw from - for arches - precisely! "Tigers" answered with three attacks in a row while, at last, again didn't come forward in the account. For a while - while Rajevski didn't aim as appears from - for arches. Plus two.
The following piece is won by rivals 5:0. And hammer from - under a board that brings result, than tryulnik more true. But time game went such …, and Gilevich, having appeared without guardianship on an arch, didn't resist from a temptation. Precisely in the purpose!
Rodríguez, Alexits and Owens of time, another and the third are torn under our board and "Donetsk" is in the lead with a gap from two to four points. But Gladyr and Onufriyev with remarkable stability strike a basket of rivals from - for arches. Here only under a board nikolayevets aren't successful in passes. Most often the ball was thus lost and sharp counterattacks of guests followed.
But here Onufriyev makes the way closer to a board and a semi-hook, through hands of defenders, sends a ball to a basket - plus 2. After this pleasure Gladyr receives the fifth foul and leaves a platform. Owens realizes only one penal throw. However the rebound is won by Alexander, on it фолят, and the skilled forward is faultless - 76:77 …
And again teams as in the first duel in "Hope", enter a final minute of the main time with advantage of guests. And again the mistake of owners of a platform follows at draw.Rodríguez runs away to our board, behind it Jackson rushes. Throw, the block - шот, and a ball in hands at nikolayevets!
Upside-down this couple flies to an opposite board. Jackson, without reducing speed, throws between hands of rivals - 78:77. Donetchane in position attack wasn't found by gaps in our defense. After their inexact throw Jackson got a ball again. On it сфолили, and in 18 seconds prior to a final buzzer our defender established on figure 80:77 board. The well-aimed throw from - could gain guests for arches still, time was quite enough for draw. But nikolayevets so were with inspiration protected that didn't give the chance to rivals even to throw on a ring. Interception, foul on Rajevski, exact throws from the line of penalties - 82:77!

After game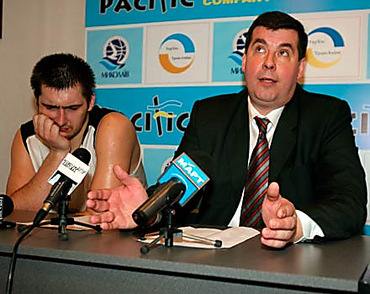 On after match the press - conferences by tradition communicated to journalists the head coach of MBK "Nikolaev" Vladimir Polyakh:
- Nine defeats in the last ten matches psychologically pressed on team, and I am very glad to this victory. There was a wish that children adjusted combinational, collective game. With the advent of Jackson we very productively worked on trainings. Important and that epidemic of injuries subsided.
In a match with BQ "Donetsk" to us managed to be played wholeheartedly and at high speeds. Jackson with whom the contract until the end of a season is signed, managed "to disperse" team, besides it it is very useful played in protection, gathered important points. I am glad for Onufriyev who got some necessary balls in a match ending. As it is necessary Gladyr and Gilevich played. MBK "Nikolaev" were played any more by two persons as in some matches of the current season, and the result came. I hope that the duel with BQ "Donetsk" doesn't become the only splash, and the team will show such basketball regularly.
Vladimir Polyakh also emphasized that on the eve of a match with донетчанами legionaries of MBK "Nikolaev" warned that from them wait for result.
- These players on the special account, considering level of their salaries, - Vladimir Romanovich told.
The trainer noted that, judging by actions of foreigners in this match, this suggestion wasn't in vain.
One of heroes of a match Ivan Gilevich noted game qualities of Dzharrius Jackson who several times gave it cool transfers. Ivan also was glad that to him, at last - that, were successful at once some well-aimed throws from - for arches.
The head coach of BQ "Donetsk" Igors Migliniyeks on a press - conference wasn't.
Review of round
On January 31
"Pulsar" - BQ "Kiev" - 84:92 (from)
"Azovmash" - BQ "Poltava" - 95:81
"Sumykhimprom" - "Chemist" - 67:87
"Pulsar" once again proved that authorities on the Ukrainian superleague for it don't exist. This time from Exactly Kiev "wolves" who gnawed a victory only in an overtime hardly were on the lam. However, players of "Pulsar" only have to blame for defeat themselves: they managed to miss the mark 15 penalties! It is inadmissible luxury in a match with BQ "Kiev" at which the role of the first violin was played by Yovo Stanoyevich who has gathered 28 points.
Gains power updated "Chemist" who crushed "Sumykhimprom" in Sumy. The greatest contribution in this victory brought Kolchenko - 22 point and Famutimi - 20. Ex-nikolayevets A. Sabutsky ("Chemist") and Evgeny Podorvany ("Sumykhimprom") on a platform didn't appear. We will note that this victory of "Chemist" became for team seventh in a row!
"Azovmash", despite a scanty bench, again surely won. BQ "Poltava" conceded to owners in all quarters. The most productive mariupolets had Serapinas - 22 points.
Present round brought only one serious change in standings. Won "Chemist" and the lost BQ "Donetsk" exchanged places. In total - in the three of the best to see more habitual than yuzhnenets. And whether they here will hold the third line after the following round - a difficult question. The central match will take place in Youzhny where "Chemist" will be resisted by "Azovmash". Nikolayevtsa will go to Poltava.
| | | | | | | |
| --- | --- | --- | --- | --- | --- | --- |
| | | And | In | П | Р / about | About |
| 1 | BQ OF CUES | 18 | 16 | 2 | 1540:1266 | 34 |
| 2 | AZOVMASH | 18 | 15 | 3 | 1561:1289 | 33 |
| 3 | CHEMIST | 18 | 11 | 7 | 1398:1429 | 29 |
| 4 | BQ DONETSK | 17 | 11 | 6 | 1423:1316 | 28 |
| 5 | MBK NIKOLAEV | 18 | 6 | 12 | 1330:1533 | 24 |
| 6 | SUMYKHIMPROM | 17 | 5 | 12 | 1330:1459 | 22 |
| 7 | PULSAR | 18 | 4 | 14 | 1352:1491 | 22 |
| 8 | BQ POLTAVA | 18 | 3 | 15 | 1384:1535 | 21 |
19-й round. On February 7
The chemist - Azovmash
BQ Donetsk - BQ Kiev
BQ Poltava - MBK Nikolaev
Pulsar - Sumykhimprom