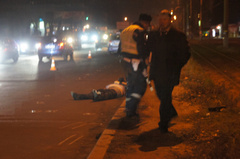 In Nikolaev, on Wednesday, December 25 there was a road accident: on Kosmonavtov Street the taxi driver to death brought down the man who passed the carriageway in an unspecified place for transition. The scene was visited by the correspondent «Crime. Is NOT PRESENT».
So, road accident happened around 17:50. According to the staff of GAI, the pedestrian, the man age about 50-55 years decided to cross Kosmonavtov Street near the street 4-I Longitudinal. While the man came to the road, he was brought down by a taxi, the car «Hyundai Getz». From traumatized the man died on a scene.
According to the staff of GAI, driver «Hyundai» during accident I wasn't drunk. We will note that «taxi» , brought down the pedestrian, left behind a brake trace about 20-25 meters long. The blow was such force that a stick for walking on which the pedestrian relied, a package which was in his hands and footwear of the man scattered in different directions in a radius about 15 meters.
At present the staff of GAI and experts who fix the occurred incident work at a place of road accident.
We will remind, earlier near Nikolayev «Volga» to death I brought down the man, on a lap crossing the road. Also it was reported that in militia nikolayevets was given, a year ago to death brought down the school student.