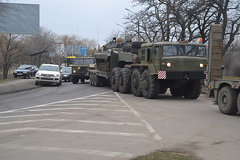 In Nikolaev on Sunday, March 2, a group of about 50 people blocked the passage along «Melitopol - Novoazovsk - Odessa» out of the neighborhood Varvarovka.
About it the correspondent «Prestupnosti.net» from the place of events.
This group of people headed by 20-year-old activist of the public movement Kuma Vladimir Putin, Viktor Medvedchuk «The Ukrainian choice» Andrei Goncharuk earlier, at about 14:00 went convoy to the Sewerage bridge with the Lenin square, where it continues to be a rally of Pro-Russian organizations. At that moment, four truck tanks The armed forces of Ukraine and military truck was moving in the direction from Nikolaev neighborhood Varvarovka, where their movement was blocked by the people, spreading on the road tires and blocked a highway.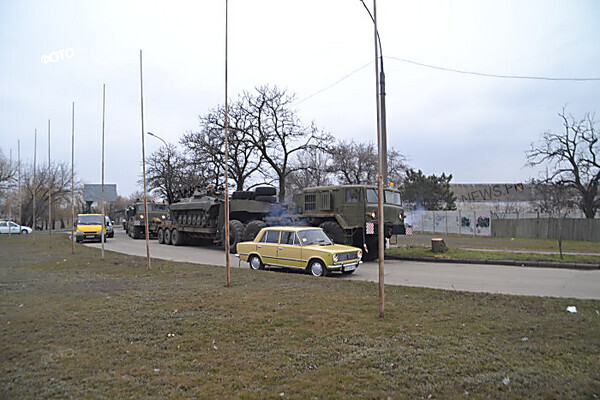 In the end, as of 14:55 whole column of military equipment turned around and went in the opposite direction. People continue to stand in place are the police and traffic police. 
As reported in the press service «Popular front Nikolaev», which organized the overlapping routes of international importance, colon equipment from hетырех platforms with four armored vehicles, two accompanying cars and traffic police outfit, after beginning to turn around and go in the opposite direction, drove a few blocks, then again turned around and performs a second attempt to pass through the Sewerage bridge.
As reported by «Prestupnosti.net» in the press-service of city police Department, was also the third attempt of military vehicles to drive on the bridge, however, people again blocked the road. As at 17:20, Pro-Russian activists continue to be on the road, passing cars, but preparing for the fact that technique will again try to drive into the city. 
Note that Ukrainian law provides criminal responsibility for blocking roads - article 279 of the criminal code («Blocking transport communications by placing obstacles that have prevented normal functioning of transport or creating danger to human life or the onset of other serious consequences»). Sanction of the article envisages punishment from a fine to restriction of freedom for the term up to three years.