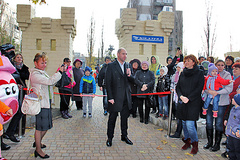 In the Ship district of Nikolaev the ceremonial opening of the children's town took place «Fairy tale» , which restored the sea terminal «Nickname - Tera».
Reported about it in a press - service of the enterprise.
«From former ruins and garbage dumps didn't remain also a trace. Now instead there were modern playgrounds equipped with roundabouts, a swing, horizontal bars and many other. It won't be boring for children definitely. Children's town «Fairy tale» I began on - to the present to correspond to the name. The favourite vacation spot of all residents of the Ship area is again ready to please parents and their children» , - it is noted in the message.
A day before opening organized a community work day in which employees of port, and also not indifferent residents of the Ship area participated. Joint efforts planted 85 bushes of a juniper and 37 catalpas.
«In the opening day of locals I expected a surprise–games and competitions for children from favourite heroes of animated films, the sea of balloons, traditional cutting of a red tape by the initiator of the project, the chairman of society of open company «Nickname MSP - Tera» Alexander Gaydu. Then the children could test all swing and roundabouts in the territory of the restored town. Were delighted not only children, but also their parents together with grandmothers and grandfathers» , - told in a press - service.
- I have 5 grandsons, all boys. The daughter brings children here, and I bring to take a walk. Very well and beautifully. It is pleasant to all. We are very happy, - the local Sergey Chernat shares opinion.
Reconstruction of the town is executed taking into account wishes of locals and conditions of ensuring comfort and safety of children, the territory is arranged well.
- The enterprise already spent more than 2 million hryvnias for restoration of this remarkable place and it still not the end. We will continue reconstruction in the spring. In the future shops, benches and ballot boxes will be established. Also we want to resolve an issue of lighting and protection of the town, already we conduct dialogue with local administration.For even more attractive type of fortress we plan to announce competition for small children on the best drawing on a wall. We always keep the word, - Alexander Gaydu notes.
«The head of port hopes that locals will protect and appreciate the children's town. In turn the sea terminal will make every effort for creation of necessary measures for ensuring safety of the town» , - it is also specified in the message.