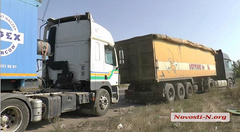 Reception of garbage from Lviv on the Nikolaev solid waste landfill will be paid according to the highest tariff, accepted for business.
About it in the comment «Crime. Is NOT PRESENT» the Director of KP «has toldNikolayevkommuntrans» Yury Mostovoy.
- The order has been signed on September 10. It is a temporary measure, in Lviv there was an accident and we have to help each other. Reception of garbage will be carried out at the most expensive price which at us is agreed for business. These are 12,19 hryvnias for one cubic meter, - I have told the Pavement
Except that, Yury Mostovoy has reported that on Monday, September 12, from Lviv there have already arrived the first four cars with garbage.
- Today there have already arrived four garbage trucks. They have a volume, as well as at ours–on 50 cubic meters everyone, - the director has noted KP «Nikolayevkommuntrans».
Photo and video: «News - N»
We will remind, mayor of Nikolaev Alexander Senkevich I recognized, that on the landfill near Nikolaev will bring household waste from Lviv. The mayor called it a temporary measure.