The Ukrainian association creditno - the bank union considers excessive powers of the curators entered into banks by solutions of NBU. About it it is spoken in UKBS message.
"Concern of association is caused by large powers of the curator in coordination of decisions of the management of bank and the documents connected with movement of means, and also the right to take out out of limits of bank of the copy of documents", - is spoken in the message.
UKBS considers that introduction in banks of curators with so large powers increases mistrust to a banking system.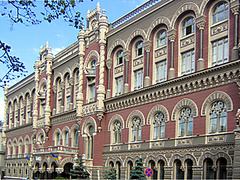 "The curator has to carry out the general functions of supervision of activity of bank and conform to high professional requirements. Only in that case its appointment as the authorized representative of National Bank will cause trust from borrowers, investors and creditors of commercial bank", - is spoken in the message.
UKBS hopes for acceptance by National Bank of the decision on narrowing of powers of curators for achievement of optimum constructive cooperation between the regulator and banking institutions.
We will remind, the resolution No. 38 of January 30 of NBU I settled an order of introduction of curators in banks and an order of their activity.
According to the resolution, the following powers are assigned to the curator:
control of carrying out by bank of various operations, initiation of meetings with the bank management;
presence at meetings of shareholders, board meetings and the bank supervisory board;
coordination of the means of decisions of the management of bank connected with movement;
carrying out out of limits of bank of copies of the documents testifying to violations by bank standardly - legal acts of NBU.
The term of office of the curator can't exceed 1 years from the date of its appointment.
As it was reported, NBU entered the curators into Ukrgazbank and Sotsk Bank, and also intends to enter into Bank of regional development.
Also the National Bank entered temporary administrations in nine Ukrainian banks: Nadr's bank, bank Kiev, bank the National credit, Black Sea Coast bank, Ukrprombank, Zakhidinkombank, Prominvestbank, Odessa - bank and Transbank.