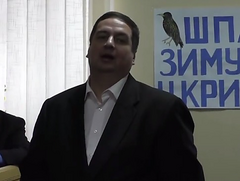 The new appointed deputy directors «Nikolayevoblteploenergo» Pavel Shpak and Igor Radchenko are mixed in pressure upon contractors of this municipal enterprise. This pressure developed into the actual extortion of money.
About it there is a speech in a plot «PN.TV».
Earlier director «Nikolayevoblteploenergo» Vladimir Bereznitsky declared that Shpak and Radchenko, as «people» adviser to the governor force to carry out kickbacks and to deribanit property enterprises. Bereznitsky says that gave responsible positions to Shpak and Radchenko forcedly, after insistent requirements of the adviser to the governor Merikov Yaroslav Filatov.
So, meeting of labor collective at which Shpaka and Radchenko accused of pressure upon contractors whom the works provided by them and services forced to compensate on own account took place on December 17. Businessmen - contractors declared it from the improvised tribune:
- In July of this year I was called to the deputy director Pavel Shpak. To me conditions were set that I will work only if I make partial payment of the goods bought from me following the results of monthly work. To me the concrete figure (about 5 thousand hryvnias was called–PN) which for economic reasons I can't pay. The existing system of the taxation doesn't allow me to pay companion Shpak money, - the businessman Sergey Kapusta declared.
The similar story was made also by the director of the enterprise «Yugteplomerservice» Alexey Shevelkov:
- It was ringing: «I am the deputy director for economic problems, we would like to discuss with you payments on your enterprise that from you was bought where money was spent». I arrived, we got acquainted and it was offered that on further types of works our enterprise needs to pay a certain quantity of money. Pavel Shpak offered me, - Shevelkov speaks.
Shpak rejected charges of illegal actions, but it caused negative reaction from labor collective.Also we will note that Shpak and Radchenko are included into the commission which will check activity «Nikolayevoblteploenergo». Creation of this commission was it is initiated by the governor Merikov. Also we will note that Shpak earlier I accused the director of KP Bereznitsky in a number of violations also I declared that that conducts the enterprise to crash.