Revival of a community of orthodox believers of the settlementBig Korenikhbegan in 2006 with arrival of the fatherBoris to Zeke(since 1937 in the settlement there was no church and arrival).
Three years ago the thrown workshops of high school No. 23 were adapted for carrying out services and meetings of believers.
Begun inNikolaevconstructionSacredly - the Pokrovsk templebecomes a new stage in preservation of orthodox traditions of inhabitants of the residential district and the next villages.
Construction of the temple is a national building which will be conducted on donations and free aid of all not indifferent citizens. The enthusiasm and construction experience of the father Boris already helped it to issue the project and branch of the earth under the two-story temple which becomes the spiritual center and the real decoration of Big Korenikhi.
The first charitable donations were made already by some businessmen of the city. And the beginning of construction works became possible thanks to the help, which at the request of the deputy of the mayor - the director of the department of housing and communal servicesVladimir Novozhilovrendered the municipal enterprise "Nikolayevkommuntrans", having provided the equipment for ditch digging. About it reports a press - service of the Nikolaev Executive Committee of the City Soviet of People's Deputies.
If this good business is supported, already soon from the Ochakov route entry into the city will be consecrated with orthodox church.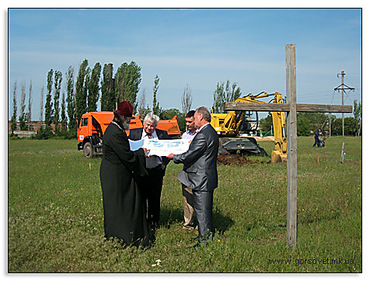 On a place of this consecrated cross it will be located Sacredly - the Pokrovsk temple with the adjacent territory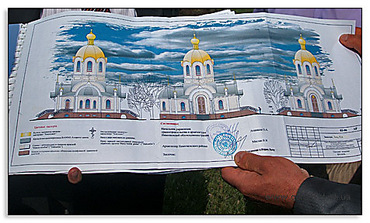 View from three parties of the two-story temple.