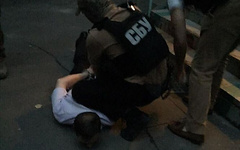 The SBU detained the deputy head of regional division of Department of counterintelligence of Security service of Ukraine for bribes.
Reports a press about it - service SBU.
So, it is known that the colonel arrived to board in an hour after receiving the next documented bribe.
- Investigators of internal security of SB of Ukraine and the Main military prosecutor's office of the Prosecutor General's Office of Ukraine detained him as article 208 Criminally - the procedural code of Ukraine on materials of internal security of intelligence service and the secret investigative (search) actions which are carried out in criminal proceedings, - report in department.
During departmental Board the Chairman of SBU Vasily Gritsak, the way provided by the law, under the resolution of the prosecutor published video proofs of systematic obtaining illegal benefit specified by the officer of regional division of Department of counterintelligence.
The head of SBU Vasily Gritsak noted that it already the seventeenth employee of management who is detained for bribery or for treason to national interests, espionage and other crimes.
- We will continue this work until we clear Service - we have no other exit, - it summed up.
We will remind that in Odessa region the SBU blocked the mechanism of a conclusion foreigners of currency from Ukraine.
The president of Ukraine Petro Poroshenko declared that for the last month the SBU detained in 10 times more bribe takers, than for the last year.
Earlier it was reported that Security service specialists Ukraine detained in Odessa region diversionary group which under the direction of the Russian intelligence services prepared a number of large-scale acts of terrorism and custom-made murders in Ukraine.
It is known that on August 27, investigators of military prosecutor's office together with the staff of special forces «To» SBU in Odessa region detained «on hot» at taking of a bribe chief of the Odessa municipal government of militia Oleg Makukhu. At a search of its office at the chief of the Odessa municipal government of militia Oleg Makukhi the staff of SBU found tags, badges with inscriptions "Russia MINISTRY OF INTERNAL AFFAIRS".
Also in Odessa during taking of a bribe the head of legal department of Malinovsky regional administration Odessa is detained city council of Alexander Demchenko. At a search at Demchenko the press of the judge and some originals of lawsuits was found.
We will note that in Odessa the judge, caught half a year ago on a bribe, still manages justice
---