Still never nikolayevets was so close to elite of world basketball.
Tonight in New - York on an annual draft of NBA under the general 49 - m number "Atlanta Hawkes" chose the defender of MBK "Nikolaev" Sergey Gladyrya. Nikolayevets became the only Ukrainian chosen at this peculiar fair of talents of the best basketball league of the world. During a ceremony Sergey Gladyr received a cap with an emblem of "Atlanta" and didn't hide pleasure from the choice made by the future team.
"Atlanta Hawkes" in the season which has come to the end recently took the second place in Hugo - the NBA East division, having won 47 victories in 82 duels of the regular championship. In the ply - офф this team in 1/8 finals overcame "Miami Heath" - 4:3, and then in a quarterfinal got under a skating rink "Cleveland Kavalyerz" - 0:4. We will remind that "Atlanta Hawkes" at the beginning of 90-x protected colors the well-known Ukrainian basketball player Alexander Volkov.
As the administrator MBK "Nikolaev" and the father of the basketball player Victor Gladyr, Sergey reported to "The Nikolaev news" while remains in America where will try the hand in Summer league of NBA. Probably, he will manage to sign the contract with "Atlanta Hawkes" already this summer. However, to think while early.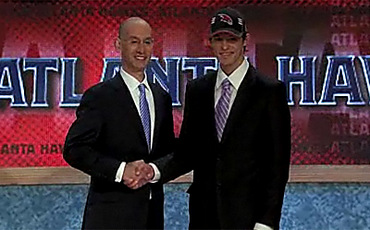 And I became the first number of a draft 20 - the summer forward Blake Griffin who was chosen by "Klippers". The first ten a draft looks as follows:
1. Blake Griffin ("Клипперс")
2. Hashim Tabit ("Memphis")
3. James Harden ("Oklahoma - City")
4. Tayriki Evans ("Sacramento")
5. Rubio's ("Minnesota") Ricky
6. Johnny Flynn ("Minnesota")
7. Stephen Carry ("Golden Steyt")
8. Jordan Hill ("New - York")
9. Demar Derozan ("Toronto")
10. Brendon Jennings ("Milwaukee")
We will note that number 42 dropped out ex-to the defender of Dnepropetrovsk "Dnepr" Patrick Beverley who will play in star "Leykers". The player of BQ "Kiev" Vyacheslav Kravtsov, contrary to forecasts of the Ukrainian experts, didn't get to a pool of NBA.