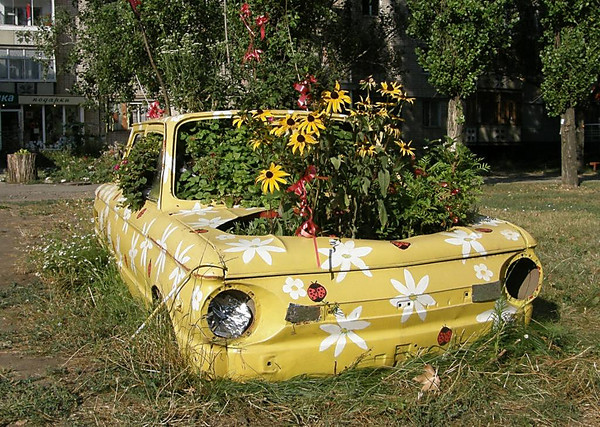 Even in the spring on the gray ordinary-looking earth along Mira Ave. near Yuzhnaya St. there was a colourful bright spot. It not that case when say that голь on an invention is cunning. It is an example of the shown sharpness and patriotism of the city. Body of old "Zaporozhets" improved, having painted yellow color, having added white florets and red bugs, and made of it a bed.
In the summer flowers in a bed blossomed, were beaten out on a place of a cowl, the headlights, the improvised hatch. The old heap of scrap metal began to draw attention of inhabitants and city visitors, still it is possible to see often how near ex-"humpbacked" judges of the Nikolaev art, wishing to make with it a photo for memory stop.
We will remind, the city municipality holds competition among businessmen who as are more best will improve a site of the land tenure on pleasure to citizens.
Here this "humpbacked" - a good example of how it is possible to make something useful to inhabitants of Nikolaev without big financial expenses.