In the morning on August 20 employees of JSC Ship-building Shipyard Meridian (ChSZ enters GAHK ") gathered under walls of the Nikolaev regional public administration. The hearing appointed for today in Economic court of the Nikolaev area (which is in one building with YEAH) cases of bankruptcy of the enterprise became the reason of their arrival.
According to one of the former workers of "Meridian" of Maria Ivanova, on the case of bankruptcy of the enterprise passes a set of fictitious firms, many of which exist only on paper. And the present management of the State holding company "ChSZ", according to workers, deliberately tightens bankruptcy procedure owing to what still didn't satisfy debts on a salary.
- Today we also are creditors. Except us on business passes still a great number of fictitious creditors. They here an illegal way, the truths and not the truths, were entered by the former management of "Meridian", - Maria Ivanova tells. - For example, "Tekhgazkomplekt" - at it fictitious bills on 38 million hryvnias. And the enterprise doesn't exist. It is registered in the register, to the declared address it isn't present. "Kiyevspetsselkhozmontazh" - too the fictitious enterprise. There the militia left, they have acts that to the declared addresses of these enterprises doesn't exist.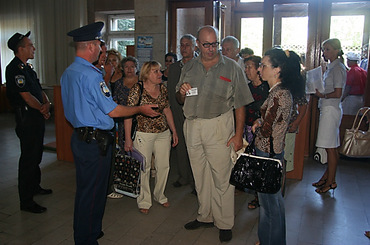 - They created here this a lot of fictitious creditors to make even creditor requirements and balance of the enterprise to declare him completely bankrupt. Full creditor requirements at the enterprise there were 12 million, balance of the enterprise at the time of privatization of 77 million, the former worker explains. - We had very big receivables, so the liquidator wrote off 172 million receivables. And, as for receivables, we had an opportunity to return it, there was an opportunity to extinguish and creditor requirements (salaries, a pension fund). Moreover, there was also an opportunity completely to restore operability of the enterprise.
According to her, throughout a long time the present management of GAHK "ChSZ" tries to tighten bankruptcy procedure by submission of appeals in the Supreme Economic court of Ukraine. And to them all the time refuse opening of business on appeals, and they write the new.
- We demand that all property of the enterprise was arrested, the judgment (there is a judgment that property assets were illegally brought out of the enterprise) is executed, liquidators have to carry out all procedural actions through executive service. They have to return property to open joint stock company, then all this property sell and extinguish all creditor requirements. And it for them is unprofitable, the management then remains with anything, - Maria Ivanova notes.
Thus she notes that the main requirement of the former employees of the enterprise is not bankruptcy of "Meridian", and payment of debt on a salary which at present makes 3 million hryvnias.
- If return us money through bankruptcy procedure, let it will be through bankruptcy procedure. Especially as we initiated it not, and tax. We aren't guilty that procedure of bankruptcy proceeds and if they decided to fulfill thus all our creditor requirements, let then fulfill court requirements, pay us a salary through bankruptcy procedure, - Maria Ivanova notes.
As expected, court session didn't take place. To people there was a secretary of the judge (and to the building protection let not all, and only five people) and reported that at present in the Supreme Economic court the next appeal is considered. As a result, it isn't possible to consider case in Economic court of the Nikolaev area.
Further, if the situation doesn't move off dead center, people intend "to knock and at other doors", for example, to ask for the help the governor.
- Alexey Garkusha is the head YEAH. It just its level. Why to us drag out ship process - let it understand. State authorities are obliged to interfere with this process, to understand, and to help us to repay debts on a salary, - Maria Ivanova summed up.