The national bank of Ukraine established an official rate of dollar on Friday, August 28: for 100 US dollars - 798.9 UAH, since yesterday its position didn't change. Such course is the lowest official rate of hryvnia for all history.
Today's morning the average selling rate of cash dollar in exchangers made 8,58 - 8,6 hryvnias, the average buying rate of dollar grew to 8,52 - 8,53 hryvnias for dollar.
*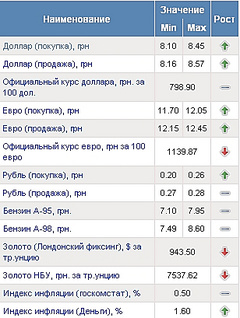 * Source: "Деньги.юа"