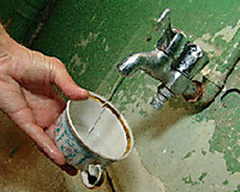 In Dnepropetrovsk and Novomoskovsk water supply will be stopped on September 29-30 from - for is repair - scheduled maintenance at the municipal enterprise of the Dnepropetrovsk regional council "Aulsky water supply system" and Kaydatskoy nasosno - filtering station.
About this UNIAN reported in a press - service of the city chairman of Dnepropetrovsk.
Without water there are all categories of consumers of right-bank part of Dnepropetrovsk and a complex of apartment buildings "Dnieper".
Water supply of consumers of left-bank part of Dnepropetrovsk will be carried out with the reduced pressure in a water supply system.
End is repair - scheduled maintenance on renewal of a resistant mode of water supply is planned to 8-and to o'clock in the morning on October 1.
In Dnepropetrovsk lives 1,05 million people, in Novomoskovsk - 80 thousand people.