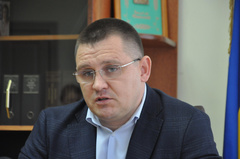 Group of companies «Prometheus» , having turnovers of several hundreds of millions of hryvnias a month, practically doesn't pay taxes.
It on Thursday, October 6, during the press - conferences were declared by the head BEND in the Central district of the city of Nikolaev Dmitry Prokofiev.
- It is the largest group of companies in our inspection, working in the field of agriculture. And this group practically doesn't pay taxes. I tell it responsibly. We, naturally, use various tools and mechanisms, we carry out inspections, the tax police initiates proceedings. And I as the former businessman only am glad that the company develops, buys elevators. But it would be desirable that they have shown the state position and adequately paid to the budget those sums which have to, without some pressure on them or influence, we as the state build partnership with business. But today, unfortunately, we don't see from their party of any constructive work in this direction, - Prokofiev has noted.
At the same time he has confirmed that a number of criminal proceedings on the facts of the violations allowed «is at the moment openPrometheus» , there are also acts of checks not for one ten millions of hryvnias.
- I tried to meet several times the main person in this company (the businessman Raphael Goroyan, - PN), but he has answered me that he doesn't take part in business of the companies, there are directors, there are managers with whom we communicate, but they aren't ready to work at the moment structurally with the tax inspection and to pay taxes, adequate for them. All of us perfectly understand that if the companies with a turnover of several hundreds of millions of hryvnias a month don't pay taxes, then what we then in general speak about? What state we build? Why one pay and pay rather adequate figures, and others aren't present? But we in this direction work, - Prokofiev summarized.
Let's remind how it was reported earlier, firm of the scandalous Nikolaev businessman Raphael Goroyan which carries out export wholesale trade in grain , it is deprived of the license for implementation of financial operations by the abroad (on foreign economic activity).
It is known that in 2016 the Nikolaev businessman Raphael Goroyan has entered the first hundred the richest Ukrainians according to the version rating of the magazine «Forbes». It should be noted that the businessman in Nikolaev is known for the expressivity and repeatedly acted person involved in many scandals.