After the relevant decisions of the state extraordinary anti-epidemic commission at the Nikolaev regional state administration and decrees of management of health protection, the regional infectious diseases hospital for adults received additional financing on acquisition of drugs and medical preparations. About it reports Management of health protection of the Nikolaev regional state administration.
From - for the specifics infectious diseases hospital always ready to various surprises, but in the conditions of an epidsituation it optimized internal reserves even more and reorientated three offices to 90 beds for hospitalization of patients by flu, ORVI of heavy and average forms, pregnant women, groups of risk. Their quantity constantly changes as one are written out, and others arrive on treatment.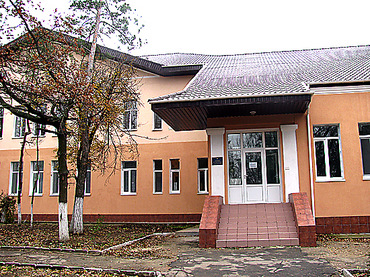 The chief physician of regional infectious diseases hospital Stanislav Titovsky works in an institution over 30 years, witnessed the outbreaks of many infectious diseases including flu epidemics, but such heavy complications after flu as now weren't earlier. Today in hospital there are about 60 patients, from them two with suspicion on the flu complicated by pneumonia, in a serious condition are in resuscitation unit, one more patient - on the medical ventilator.
For epidemic administration and doctors work without days off, the hospital is on quarantine therefore visits of patients it is limited. Information on patients with flu daily transfer to health protection management.
The decision of the extraordinary commission, for fight against an illness to hospitals allocated 90 thousand UAH, the part from them was used on medicines, dezsredstvo and medical tools. But the allocated sum if the wave of epidemic increases, it will be obvious insufficiently. For treatment in infectious office of one patient, it agrees with protocols, 500-600 UAH, in resuscitation - to 1700 UAH are necessary.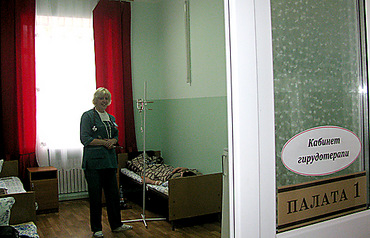 Preparing for the oseena - winter эпидсезону, the hospital previously, in enough, received Tamiflu preparation, protective masks, single gloves, and for the beginning of epidemic was already fully equipped. Tamiflu in enough is and now, besides in area still in addition delivered a preparation. In total 4380 capsules of Tamiflu arrived, since the beginning of epidemic 596 capsules of a preparation are used. All inpatients receive it, some refuse. Each capsule - on the account and sale isn't subject.
However there are temporary problems with other antiviral preparations which first of all were sent to flu epicenter, to the Western Ukraine. Funds for their acquisition are therefore, probably, until the end of this week this issue will already be resolved also.
- We try to provide as much as possible with drugs of patients with flu and other infectious diseases which arrive in our hospital, - Lyudmila Yanovskaya, the control nurse of a hospital behind medicines, - if necessary tells everything that is in hospital is used free of charge. In case of lack of any preparation, patients have the right to decide independently - to wait or buy them in a drugstore.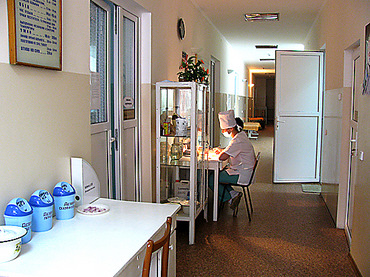 On the average in a month the hospital spends 25 thousand 300 UAH of budgetary funds, 40 percent of this sum are spent for dezsredstvo, medical tools, dressing, nutrient mediums for a baklaboratiya, etc. On epidemic case the hospital got better expensive medical preparations which weren't bought earlier.
Patients with flu and meningitis have to be in the isolated boxes. In the fifth office of hospital - three such boxing, incomplete there was the fourth. For completion of repair of this boxing the extraordinary commission allocated 40 thousand UAH. In two-place boxes there are all conveniences - the separate bathroom, convenient lighting, modern furniture, a tiled covering of a floor and walls, and the main thing, patients protected from hit of an external infection. As a whole the infectious diseases hospital considerably improved in recent years the financially - technical condition: modern repair of offices was made, metalplastic windows and doors are established, are available an autonomous fire chamber for the main case and the diesel - the generator for office.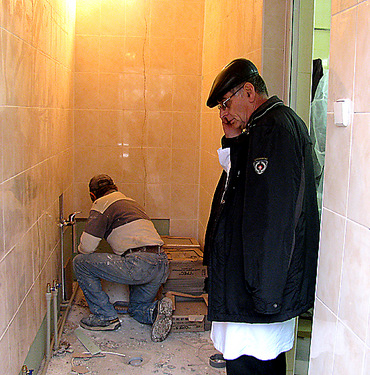 Daily in hospital arrives from 5 to 20, and sometimes more, calls from nikolayevets who, except complaints to health, are interested in treatment, prevention or vaccination. Chief physician S.Titovsky considers that those people who took root from usual seasonal flu two months ago when there were normal prerequisites for immunity development reasonably arrived, but during epidemic it is necessary to approach to vaccination deliberately, having consulted with the doctor. To be protected from an infection, he advises, it is possible old known methods of prevention - a frequent washing of hands, wearing protective masks in public places and the closed rooms, the uses of vitamins, onions and garlic, rinsing by salt solution of a throat and a nose.