JSC Nikolayevoblenergo intimidates citizens shutdown though their case is still considered by court and therefore it isn't clear yet who is right: the citizen or the enterprise - the supplier. About it there is a speech on a site "Power and Law", where the relevant document - the claim No. 4031 signed by the first deputy the director regional poweris placedM. Vavko.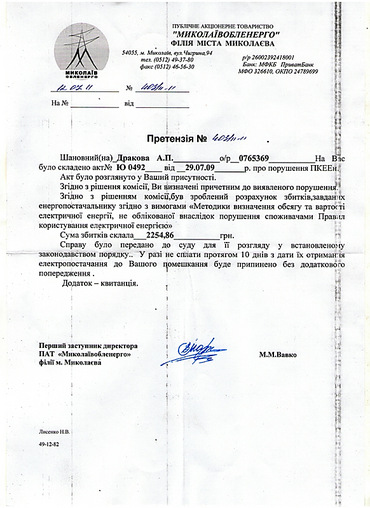 In the message it is noted, what "even in the text of the document it is visible, what matter in court, but at the same time already sounds the requirement to pay, and differently that? Shutdown? ".
"Such contents documents are not than other as pressure of the monopolist. In case of consideration by court of controversial questions, Nikolevoblenergo can stop power supply only after receiving a judgment on advantage regional power and in accordance with the established procedure at first the enterprise has to notify that in writing, and after already to disconnect", - is spoken in the message.
In that case as it is noted further if the citizen обраться with the complaint to illegal shutdown, "Nikolayevoblenergo" is fined by antimonopoly committee for abuse of a monopoly position.