The Ochakov court recognized illegal dismissal of the employee of "Nikolayevoblenergo" Vadim Shpilevy and obliged the enterprise to pay to it the compelled truancy, and also to restore at a former position.
We will remind, "Crime. Is NOT PRESENT" wrote that after the former deputy director for investment policy of the Nikolayevoblenergo company V. Shpileva got to management of the company and a personnel reserve, the management of the enterprise decided it to dismiss.
Understanding illegality of the dismissal, Shpileva appealed to court in which last week the decision partially to satisfy the claim of the former employee regional power was made.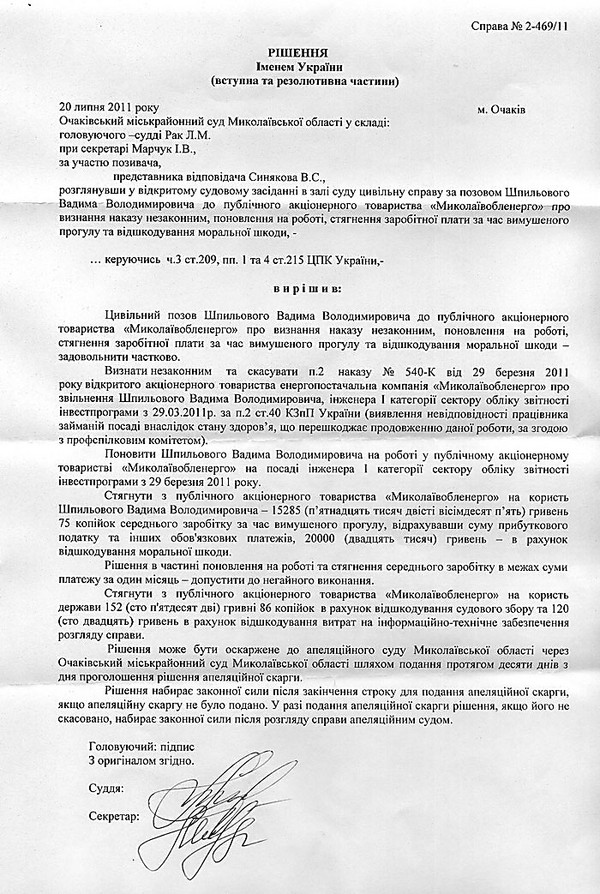 According to a judgment, "Nikolayevoblenergo" which has violated the rights of the worker, has to pay to Vadim Shpilevom a salary for time of the compelled truancy of more than 15 thousand hryvnias, and also pay the caused moral damage in the sum of 20 thousand hryvnias.