Basketball. Championship of Ukraine. Superleague.
Before game
"Pulsar" - the closest to nikolayevets on spirit club where the love to basketball yet doesn't find solid support from a local business community. Not from good life of team very seldom invite players whom trainers would like to see in the structures. However both collectives are loved by the fans for a fighting spirit. And they show it not only in house matches.
In inter-season period to the rovenchena before nikolayevets "bragged" that solid sponsors came to team, at last. However, "Pulsar" could invite at first only couple of inhabitants of Kiev yes the Lvov Belarusian Ulyanko. But then there was also the first legionary from the Balkans - Dalibor Dyapa. On productivity it was the best in "Pulsar" and the fourth - in a superleague.
Here whom at first got, and then … lost to the rovenchena with moving of Dyapy to Odessa. The basketball player reasoned the unexpected decision bad living conditions which to it were provided by club in Exactly, and also misunderstanding with the contract. Which allegedly wasn't signed by the player at all.
Nevertheless, in the previous round "Pulsar" as equals played with Donetsk "tigers". In this situation forces in a superleague this result is worth a lot. So nikolayevets will be resisted by team much more strongly than the former. In particular, center ровенчан Dubnyuk holds the second place among ribaunder of the superleague, the easy forward Dyatlovsky - the third on "tryulnik", Ulyanko - among leaders on the block - шотам, Bryantsev - on number of executed penal throws, and the playing Shemosyuk - on attacking transfers.

Game
MBK "Nikolaev" - "Pulsar" - 75:66 (21:17, 15:17, 21:20, 18:12)On November 15.Nikolaev, спротшкола "Hope", 1200 viewers
Productivity (points/minutes in game)
RAJEVSKI
23
33
DYATLOVSKY
5
18
YAYLO
0
15
BELOV
6
22
ONUFRIYEV
11
38
SHEMOSYUK
12
31
HLEBOVITSKI
4
23
ULYANKO
19
34
GLADYR
24
29
GUMENYUK
4
22
Gilevich
4
15
Residents of Bryansk
3
27
Silkovsky
3
15
Zakhozhy
2
9
Tonchenko
0
7
Artimovich
13
29
Blair
6
25
Peel
2
7
Ryabinin
0
1
Head coach Vladimir FIELDS
Head coach Mikhail PEREVERZY
Accuracy of throws (threw/got)
2-point
36/14
44/16
3-point
23/9
25/8

Penalties

26/20
23/10
Selections (the шит / stranger)
32/9
30/18
Judges:R. Ponomarenko (Kiev), E. Zaikin (Sumy), A. Kalashnikov (Zaporozhye)
CommissionerA. Yefimov (Kharkov)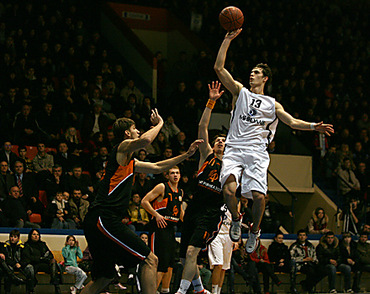 The first match on which the Nikolaev fans with firm intention to win, I fell in exactly on the last round of the first circle. Absence, except Dyapy also Dubnyuk obviously increased chances of nikolayevets of success. However, we after all didn't know about our own problems … Though heard that our club refused Uilkinz's services at the beginning of a week. But with impatience expected emergence on a platform of one more legionary from America - Blair.
As far as owners of a platform dashingly began - 5:2, guests - 5:8 so convincingly answered. After some hitch Gladyr and Blair doubled an asset of nikolayevets. To Rovenchana took a time - a miss, but after all and the head coach of MBK "Nikolaev" Vladimir Polyakh had an opportunity to introduce necessary amendments. Basketball players started following its instructions more effectively - 21:14 on 9-й to minute of game.
However was evident that if not two exact threes which at rivals anybody couldn't answer, nikolayevets actually had no game advantage. Especially uncertainly our basketball players in a zone of reach of the most tall player of a superleague Gumenyuk felt. Something should be thought out while the account on a board remained pleasant - 21:17.
On the first minute after a short break from a parquet after falling our best goal-scorer Gilevich hard rose. On a platform it still incidentally appeared then, however played very carefully, it is visible not to aggravate a trauma. Soon to the rovenchena caught up with nikolayevets and new breakthrough was organized by Gladyr and Hlebovitski - 30:23.
Then "Pulsar" undertook to fire at our basket from - for arches. Ulyanko, Shemosyuk, Dyatlovsky and Artemovich one minute prior to the period termination even removed the team forward - 33:34. But Blair's unpretentious "two-room flat" in total about his two block - шотами in protection allowed owners of a platform to defend the reeled belief in a victory - 36:34.
The intermediate finish clearly designated problems of owners of a platform. Except Gladyrya (12 points) and Rajevski (8), throws weren't got on at anybody. Besides our trucker earned 3 fouls, and Rajevski spent a bit too much time on a parquet. Both indicators are fraught with negative consequences on the match finish. Partly these fears were confirmed.
Only I started the third period as Ulyanko is killed by a tryulnik - a draw. Rajevski, however, answered the same. But rivals continued an impact and to the middle of the period came off in the account on 6 points! While we beat off one Rajevski, anything good to wait and didn't follow.
Gladyr greased the two distant attempts, but … didn't stop. Here it according to the full program fulfilled in protection - caught up with Bryantsev and "was substituted" under a foul in attack. Then I came tearing along on others half of a platform and I hit the mark from - for arches. Afterwards similarly I stopped break ровенчан Onufriyev, and Gladyr again shot from a distance straight. For the third time he received from Rajevski a pass at such speed that stopped, having only caught a handle of a ring - 50:47.
The time - a miss allowed ровенчанам to take breath. But for a while - Silkovsky, Rajevski and Onufriyev bring a gap in the account to 7 points.
Guests decided not to shelve countermeasures. Belov and Zakhozhy won back the most part of a handicap. So before the last period - only 57:54.
Perhaps, guests didn't expect from nikolayevets of such troubles at once after short rest. Gladyr and Blair in a minute bring advantage of owners of a platform to 8 points. (By the way, both then with an interval in 20 seconds reached the limit of personal remarks and left game in 2 minutes prior to a final buzzer).
Artimovich smears from the line of penalties. And Onufriyev is twice exact - plus 12. When also Ulyanko "forgave" us for a penetrative foul, it became clear that nerves at rivals hand over. To 7 points ровенчанам who managed to reduce lag, but tactical fouls on Rajevski seldom helped to escape from defeat - 75:66.
After game
Head coach of MBK "Nikolaev" Vladimir Polyakh:
- We were faced on the one hand by a task to win, with another - properly to look in the case of the beginner Blair who in the American student's league had one of the best indicators on the block - шотам and to selections. Today Bleyr helped us, but the final decision on signing of the contract with it isn't made yet. While it at us on two-week viewing. Whether there is this basketball player the full player of MBK "Nikolaev", will decide after a match with "Sumykhimprom".
On the eve of a duel with "Pulsar" we faced again personnel problems. Gilevich and Hlebovitski passed some trainings from - for injuries, and Rajevski on Friday was with high temperature.
Though winners also don't judge, I have claims honor to all players. It turned out nothing in attack at Yaylo, unfortunately, the board to me it is difficult to that to find an explanation is lost. Such game of Gladyrya me was expected, but I want that he played at such level in each match.
As Vladimir Polyakh reported, the Nikolaev club left two basketball players. According to him, on Monday Uilkinz came to training and very warmly said goodbye to players and trainers. Left that is called without offenses. Also Krivtsov who in this season didn't play any match for the first team left team. Now Igor will try basketball happiness in Odessa. The head coach of MBK "Nikolaev" also noted that selection work in club is continued.There is a search of the player on Uilkinz's position, for the aid to Gladyryu.
As for emergence prospects on a platform in matches of a superleague of reservists Shurmel, Norenko and Shepil, Vladimir Polyakh doesn't hurry to throw them into fight. Let at first will learn to win tournament of doublers.
The last question on after match a press - conferences concerned problems of MBK "Nikolaev" for a season. Vladimir Polyakh joked that in the ply - офф the team will get anyway. According to him, in a superleague there are two obvious leaders - BQ "Kiev" and "Azovmash", other teams about one level therefore even the third place doesn't look for MBK "Nikolaev" a utopia.
Head coach of "Pulsar" Mikhail Pereverzy:
- Not easy it was necessary to us under boards in fight against tall Yaylo, Hlebovitski, Blair. Our center Gumenyuk is still young and only the second game shows more - less normal basketball.
I think that "Pulsar" and MBK "Nikolaev" in the current season about one level. In this match both teams were equal practically in all components, but "Pulsar" ugly punched penalties, and it became one of decisive factors of defeat. Still we very much didn't have Dubnyuk who on training stretched a linking of an ankle. As for escape of Dyapy to Odessa, I saw the contract signed by this player with "Pulsar". Now this situation understand the management of club and lawyers. I will note that in the matches played for "Pulsar", Dalibor Dyapa was the leader of team …

Review of round
On November 15
BQ Kiev - Azovmash -84:76
The chemist - BQ Poltava -78:71 (FROM)
BQ Donetsk - Sumykhimprom -88:74
To the central match of round and the first circle rivals came not in the best mood. Inhabitants of Kiev hardly any more don't worry from - for an early departure from ULEB Cup. And champions even in the internal championship showed such basketball that the management of "Azovmash" dismissed the head coach M. Bechirovich and returned on R. Girskis's this post.
After the first half which ended with the minimum overweight of "wolves", it was difficult to catch who overcame a pre-game stress better. But, since the third quarter, inhabitants of Kiev took mariupolets for … and didn't give the chance to object. Owners of a platform made on 11 throws from game more, including on 5 exact. Guests could correct affairs from the line of penalties. However greased 8 throws from 25 against two of 18 at inhabitants of Kiev.At winners Skeylz - 7 hits from 13 from game and all 4 penalties - 21 points flashed.
It is difficult to assume - on the end result - intense fight in Donetsk. But before the final period owners of a platform won only 1 point. Decisive contribution to a victory once again made Thaker (25 points) and Owens (22). Diligent I. Krivich (13 points) fought against the former clubmates. And here at сумчан Butsky's 20 points say that playing not very well fulfilled just the direct duties.
And absolutely anything curious it wasn't expected in Youzhny. Owners of sports palace, without pondering upon sense, before a match declared about coming … to "the Poltava fight". And slightly was didn't appear as Swedes (according to historical chronicles). In any case, полтавчанин Greer was made by the last throw from game in the main time. And if got …
But also in additional five-minute bronze prize-winners couldn't finish quietly a match to all of predicted result. They even conceded to guests on an overtime course - 68:69. And the last полудюжину points got from line of penal throws which were executed by Kelly and Bader.




Superleague
And
In
П
Р / about
About
1
BQKIEV
7
7
0
608:456
14
2
AZOVMASH
7
5
2
582:521
12
3
BQ DONETSK
7
4
3
585:565
11
4
CHEMIST
7
4
3
598:599
11
5
MBK NIKOLAEV
7
3
4
581:630
10
6
PULSAR
7
2
5
531:554
9
7
SUMYKHIMPROM
7
2
5
571:662
9
8
BQ POLTAVA
7
1
6
522:591
8
Second circle
On November 21
BQ Poltava - Azovmash
BQ Donetsk - BQ Kiev
Pulsar - the Chemist
MBK Nikolaev - Sumykhimprom