During winter vacation the chairman of the Nikolaev regional council Tatyana Demchenko invited to excursion in the Nikolaev zoo about 200 pupils of Berezkovsky boarding school.
Column of buses which delivered from the Krivoozersky region of children together with their teachers and tutors in the regional center, special motor transport of regional management of the State traffic inspectorate accompanied.
In a zoo they were met by the adviser to the chairman of regional council Tamil Bugayenko and workers of the executive office of regional council.
The director of a zoo Vladimir Topchy together with employees of a zoo in the assembly hall arranged to children an unforgettable meeting. In its program - viewing of movies about a kingdom of animals - birds and mammals; delightful zooquiz, competitions and games. Its participants and winners were marked out by souvenirs from a zoo.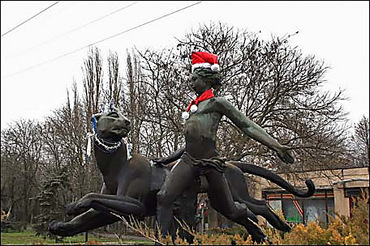 Tamil Bugayenko I explained to children that when the chairman of regional council T.V.Demchenko came to the Berezkovsky boarding school, someone from them on her question of treasured desire admitted that dreams to visit the best zoo of Ukraine - Nikolevsk. And there was an idea of excursion by all boarding school - in a zoo.
After a zoo of children invited to a festive dinner in a dining room of the house of regional council where Tatyana Demchenko warmly wished children a Happy New Year and Merry Christmas, and also I handed over to children packages of sweets.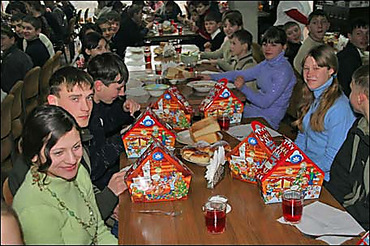 It is necessary to emphasize that the depuy corps of the Nikolaev regional council pays constant attention to problems of children with difficult destinies - to the orphans who are under guardianship, from needy and large families.
Regional programs are directed on their support and the solution of many problems.
Thanks to financing from the regional budget, on the eve of new 2009 Berezkovsky boarding school it is transferred to gas heating.
Depuy corps of regional council, the chairman of regional council T.V.Demchenko we are grateful to all who gave sponsor's help in the excursion organization. In particular, to the chief of the Nikolaev trade port Vasily Kapatsyna, the director general Yuzhno - the Ukrainian nuclear power plant to Vissarion Kim, the mayor of Pervomaisk to Lyudmila Dromashko, the chief of regional management of the State traffic inspectorate Gennady Pogorelov.
Special appreciation to people who accepted children as dear and welcome guests - to employees of the Nikolaev zoo, to the director Vladimir Topchem. After all exactly thanks to warmth of their hearts internatovets from the remote place plunged into the atmosphere of pleasure and children's happiness.