Here it is valid as practice shows, demand defines the offer - in any case, so-called самозастрои, apparently, in the city of Nikolaev grow, as though mushrooms after a rain. Otherwise, there would be on city columns of the city from time to time no very interesting announcements with which would fit to become interested to law enforcement agencies. In them to anyone offer the whole complex of services in legitimation самозастраев.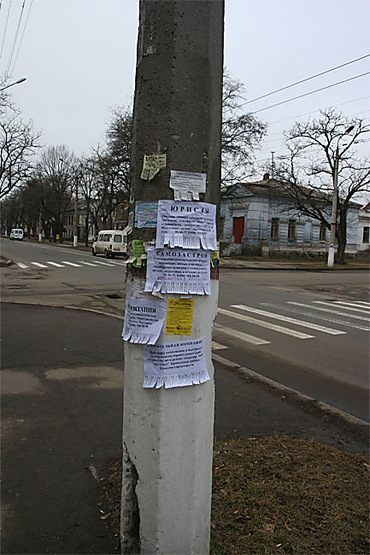 "Legitimation of self-willedally built rooms, inhabited and not inhabited, coordination of decisions in competent authorities, preparation and business management in court", - it is spoken in announcements.
On the same columns announcements and of other provided services with instructions of the same contact person flaunt. The most various services of legal character - from privatization of the land plots under houses and hozpostrostroyka and before assistance of lawyers in case of various disputes are offered. And the expression which has set the teeth on edge arises long ago: "Any whim for your money". As they say, we will help to privatize the land plot, and then, you look, and to be under construction you will decide … And as in our city these issues are resolved, to explain to anybody especially and it isn't necessary. The main thing - the handle necessary to gild.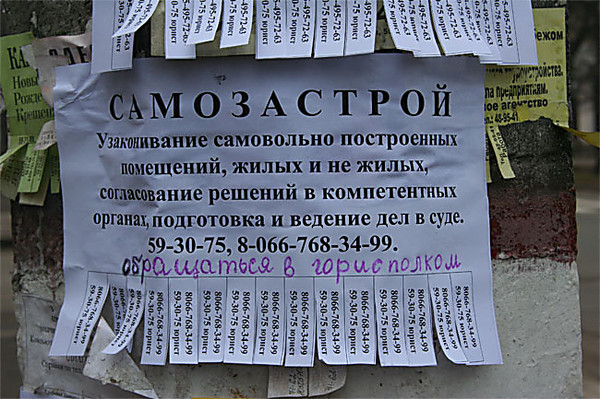 It is interesting that any jokers already even wrote a marker on one of announcements: "To address in the Executive Committee of the City Soviet of People's Deputies".