Basketball. Championship of Ukraine. Superleague
Nikolayevtsa began to forget taste of victories
Before game
Yuzhnensky "Chemist" - one of teams, a victory over which, unlike "Azovmash" and BQ "Kiev", long seemed to us really possible. However only last year nikolayevets straightened balance a little.
This month the bronze prize-winner of several championships unexpectedly for all left at once five leading basketball players. The last defeat of "Chemist" in a Cup of Evrochelendzh became a direct reason for so decisive step. However there any laurels to yuzhnenets didn't shine. And here in the Ukrainian championship the team under the leadership of the new trainer Oliver Popovic while acts not bad. So the reason, most likely, in other.
But to rivals - that important another - without Bader, Chakich, Bratich, Jackson and Korochkin "Chemist" sharply weakened. Basketball players of Rovno "Pulsar" were full of hopes that the next meeting with yuzhnenets will bring them a victory. Also were bitterly disappointed. Afterwards the same fate trapped полтавчан.
It appeared that Kelly with Famutimi who played quite strongly earlier, are capable to add strongly. I will remind that Agafonov with Kolchenko - players of a national team, so big loading and responsibility for result, than earlier, to them not in burden. Some young children among whom and the former nikolayevets A. Sabutsky, were selected among promising, had game practice so supernumeraries didn't become.
At last, as a part of "Chemist" already there was the first beginner - the Serbian forward Nenad Chanak. He is 32 years old, played in Germany for "Alba" and for Bulgarian "Lukoil". Height is 204 cm. So repair "under way" already began. And MBK "Nikolaev" it is necessary to battle to the rival at whom at least the starting five - sew not more weakly. And what problems Vladimir Polyakh's team from - for injuries of basketball players has, we saw.
Game
MBK "Nikolaev" - "Chemist" - 69:81 (15:27, 14:17, 19:11, 21:26) On January 24, Nadezhda sport school, 2000 viewers.
Productivity (points/minutes in game)
GILEVICH
18
35
KELLY
13
37
SILKOVSKY
0
7
FAMUTIMI
15
35
ONUFRIYEV
8
31
ZAVADSKY
2
4
TONCHENKO
0
12
AGAFONOV
3
28
HLEBOVITSKI
3
21
KOLCHENKO
15
30
Rajevski
0
28
Chanak
15
28
Yaylo
3
22
Sizov
12
16
Gladyr
36
33
Evtimov
6
19
Blair
0
2
Ryabchuk
0
3
Mongomeri
1
9
Head coach Vladimir FIELDS
Head coach Oliver POPOVIC
Accuracy of throws (threw/got)
2-point
34/20
44/21
3-point
22/2
22/11
Penalties
35/23
12/6
Selections (the шит / stranger)
25/14
24/11
Judges: B. Ryzhik (Kiev), S. Chebyshev (Kharkov), A. Shirobokov (Kiev)
Commissioner S. Kopytov (Kiev)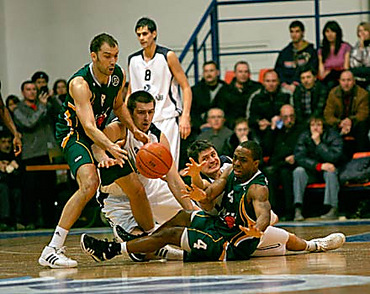 On representation of teams the Nikolaev fans with simplification saw, as Rajevski, and Gladyr, passed on one of the previous matches, in a system. Though their injuries not so surely don't disturb basketball players, but - than are rich … And here new figures as a part of yuzhnenets (except Chanak the contract already signed and the powerful Bulgarian forward Vasil Evminov) suggested an idea that in fight under boards it is necessary to owners of a platform hardly.
Emergence in Tonchenko and Silkovsky's start assumed the most vigorous game in defense. However, guests passed a ball nastolno quickly and moved nastolno is comprehended that brought someone to a throw without hindrances.And here in attack nikolayevets had to solve a similar problem mostly individually.
It was succeeded to catch up with rivals in such circumstances only after emergence in game of Gladyrya and Rajevski - 11:11. And here Chanak - a tryulnik showed the card. Afterwards precisely I threw Kolchenko, and nikolayevets took a time - a miss. However until the end of the period of anything, except Hlebovitski's tryulnik, didn't think up - 15:27.
In the second period the situation didn't change. From game at us Gilevich, Onufriyev and Gladyr threw only. And never - from - for arches. That is even more surprising, guests strengthened the advantage by means of Sizov and Kolchenko who in defense serially sponsored Gladyrya, - 29:44.
However, after a big break owners of a platform поднатужились and in the middle of the third period reduced lag to 6 points. Even annoying loss by nikolayevets of a ball in attack and productive counterattack of "Chemist" didn't prevent then Gladyryu and Yaylo even closer to tighten the team in the account to rivals.
And again yuzhnenets quietly finished the next attacks, and more our basketball players were nervous. In this, as a whole, successful quarter nikolayevets only got to a basket from the line of penalties in 9 twice (! ? ) attempts. So the result on a board was obviously not on game - 48:55.
On the first minute of the final period from the remained ten Gladyr won back at rivals 3 points. And here its attempts to accelerate breakthrough from - for arches till the end of a match weren't crowned with success. Besides on 3-й to minute our basketball player was traumatized and he was replaced by Montgomery.
Alas, I replaced only nominally. Oliver Popovic's wards soon brought the advantage to two-digit values. With return to a platform of Gladyrya nikolayevets again added. Gilevich, Onufriyev and Yaylo helped the leader of our attacks of minute for four to a final buzzer to reduce lag to 4 points.
For Kolchenko's remained time twice, and Famutimi, Chanak and Kelly - on time - struck our basket from - for arches, whether It is necessary to say that against such "scrap" our basketball players didn't have a reception - 69:82.
This match continued at once two series: "Chemist" won the sixth victory in a row in a superleague, and MBK "Nikolaev" suffered the fourth defeat in succession

After game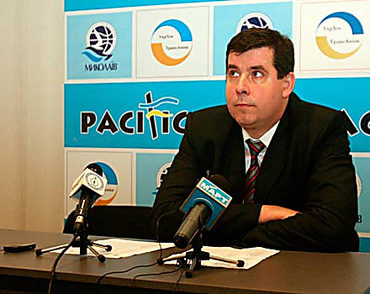 The head coach of MBK "Nikolaev" Vladimir Polyakh on after match a press - conferences already by tradition was more black than a cloud:
- We missed the mark 12 penalties and lost 12 points. For me these figures eloquent. And after all we carry out one and a half hour trainings on which we fulfill the exclusively penal.
At "Chemist" five people gathered more than ten points, and at us two - Gladyr and Gilevich played. The others didn't play. How it is possible to win? We will tell, Evtimov - the player heavy and not the fastest, but we regularly allowed it to get a ball. Why?
Certainly, at us there are a lot of injured. At Hlebovitski - ахилл, he played on pricks, at Rajevski - a back, at the third - still something. But I am not going to acquit these players. My principle such: I put on a uniform - means, I am ready to play. Before a match with "Chemist" the uniform was put on by thirteen people.
Whether I consider option of a shock therapy by analogy to same "Chemist" where deducted five people? Yes, such option is possible. Perhaps it will be not five people, not four, not three, but personnel conclusions can follow.
The head coach of "Chemist" Serbian Oliver Popovic communicated with journalists in tolerable Russian:
- It was the heavy match. MBK "Nikolaev" in native walls always plays strongly. Therefore we relied on protection, and low interest of hit of owners from - for arches I explain not with weakness of snipers of MBK "Nikolaev", and our sound actions in defense. I will note also that for Chanak and Evtimov this duel became a debut in "Chemist". I am happy with their game, special considering that Chanak carried out with us only two trainings. Nevertheless, the complete set of "Chemist" isn't complete. The other day in Southern there has to arrive the first number from Latvia, searches of the center are conducted. Task of "Chemist" for a season - to make good team and adequately to act in the ply - офф.
Together with the trainer Stanislav Zavadsky came to a press - conference also center "Chemist". He noted that yuzhnenets didn't win three years Nikolaev, and he together with partners in team is glad that it was succeeded to interrupt this black series.

Review of round
17-й round. On January 23
BQ Donetsk - Pulsar - 96:82
On January 24
Sumykhimprom - Azovmash - 64:88
BQ Poltava - BQ Kiev - 80:90
Fans of sensations, apparently, received recently strong reasons for expectations of unexpected results. However leaders of the championship surely hold the speed taken still to New year.
So, in Sumy "Azovmash" won each of the periods.And the former Nikolaev trucker Podorvany could help "chemists" only one exact throw with four attempts. Poltavchane achieved local success, having outstripped inhabitants of Kiev in two periods with the identical score 23:19. Rovenchane was drawn by two ten-minutes against Donetsk "tigers". At owners of a platform not the best match was played by Owens - 8 points. But Alexits with I. Krivich for two threw already 50 points!
| | | | | | | |
| --- | --- | --- | --- | --- | --- | --- |
| | | And | In | П | Р / about | About |
| 1 | AZOVMASH | 17 | 14 | 3 | 1466:1208 | 31 |
| 2 | BQ OF CUES | 16 | 14 | 2 | 1358:1102 | 30 |
| 3 | BQ DONETSK | 16 | 11 | 5 | 1346:1234 | 27 |
| 4 | CHEMIST | 17 | 10 | 7 | 1311:1362 | 27 |
| 5 | MBK NIKOLAEV | 17 | 5 | 12 | 1248:1456 | 22 |
| 6 | SUMYKHIMPROM | 16 | 5 | 11 | 1263:1372 | 21 |
| 7 | PULSAR | 17 | 4 | 13 | 1268:1399 | 21 |
| 8 | BQ POLTAVA | 16 | 3 | 13 | 1223:1350 | 19 |
18-й round. On January 31
Sumykhimprom - the Chemist
Azovmash - BQ Poltava
Pulsar - BQ Kiev
On February 1
MBK Nikolaev - BQ Donetsk