On February 15, in Day of the cancer patient of the child, Assistance to Children charity foundation held an action on Soviet near Sotka shop.
Volunteers this day collected to 2 323 hryvnias 65 kopeks. All money will be directed on purchase of drugs in oncohematological office of regional children's hospital.
In support of Fund the Nikolaev groups "ExStudents" "Decadense", "Overload" and "Optimism" gave a free concert on the main city street.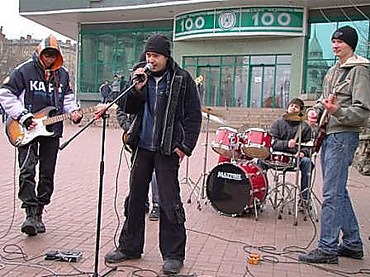 At the stand nikolayevets could see photos of the children having oncological diseases. Children, whose photos were alive in a black framework, already isn't present - the cancer carried away their lives.
Most of all during holding an action volunteers struck. These people raised money absolutely disinterestedly in spite of the fact that many residents expressed in them the no confidence. Especially offensively was to see how well dressed, well-fad men on request of the volunteer to help sick children answered: "And who will help our children? ". But many people responded to appeals and helped as could: who threw into moneyboxes a trifle, and someone - and 50 hryvnias. But common efforts collected quite quite good sum though, certainly, much more smaller, than that is demanded by treatment of children. After all a cancer - a disease which demands treatment by years. And one day of treatment of the kid costs approximately 500 hryvnias.
In action end volunteers lit candles.
The budget of an action made zero hryvnias. Groups acted free of charge. Candles I provided Hristianin shop, the musical equipment - the RUSAL Center of Social Programs charity foundation in Ukraine.
We remind that you can give help to kids at any time and in any size. In each office of a network of the DTs supermarkets, near cash desks moneyboxes for fund raising are established under the auspices of Assistance to Children fund. And in "Privatbank" from you won't take kopeks of the commission for transfer of money to the settlement account of fund.
Requisites:
NOBF "Assistance to Children"
Account No. 26005060116610 in ZAT CB Privatbank, IFI 326610, Russian National Classifier of Businesses and Organizations 36027582
Purpose of payment: charitable help.
Fund phone: 71-57-61.