The cash dollar rate for the first time in one and a half months exceeded 9 UAH/$ from - for actions of National bank which tries to regulate administratively the market and sells currency in small volumes, bankers declared. According to their forecasts, at such growth rate the dollar this week will reach 10 UAH, writes "the Kommersant - Ukraine".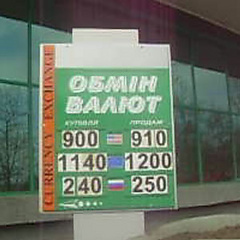 On Saturday - Sunday the rate of cash dollar overcame a mark in 9 UAH/$. It was preceded by a systematic rise in price of currency in the interbank market where, by data the Internet - UkrDealing systems, dollar jumped up from 8,05/8,20 UAH/$ on Monday to 8,31/8,55 UAH/$ on Friday. At this NBU didn't want to change tactics and I sold currency on 7,79 UAH/$ that is only 9 kopeks higher than an invariable official rate. The last time it cost at the beginning of January so much.
In the Nikolaev exchangers today courses following: dollar sale - 9,2, purchase - 8,6; euro sale - 12, purchase - 10,65.