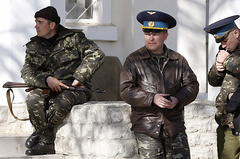 The People's Deputy from fraction «Batk_vshchina» Vyacheslav Kirilenko suggests to appoint the colonel Yuli Mamchur the commander of National guard.
About this Kirilenko wrote on the page in Twitter.
It published a photo of the corresponding address to the acting president of Ukraine to Oleksandr Turchynov.
Before it, acting from a parliamentary tribune, Kirilenko noted that such people as Mamchur, have to receive senior positions in armies, Armed forces.
- And, maybe, the colonel Yuli Mamchur just the one who has to head again created National guard of Ukraine. There would be the correct step from the new power, - he noted.
We will remind that On March 22 Russian military, having rammed gate on the armored personnel carrier and using the weapon, seized military unit near airfield «Belbek». I was the commander of part is kidnapped Yuli Mamchur.
Acting president of Ukraine, speaker of BP Oleksandr Turchynov I demanded to release Mamchur and to stop provocations from Armed forces of Russia.
On Wednesday, March 26, Mamchur released.