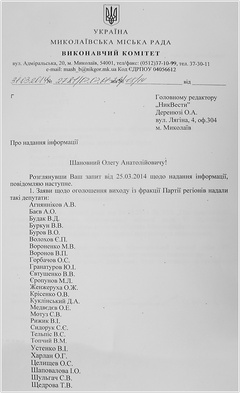 Applications for an exit from fraction of Party of Regions in Nikolaevsk city council were written by twenty seven deputies.
About it it is spoken in the answer to an edition query "Nikvesti" to the acting as the mayor of Nikolaev Yury Granaturov.
In particular, deputy fraction of Party of Regions left: Andrey Agnyannikov, Andrey Bayev, Valery Budak, Valery Burkun, Victor Burov, Evgeny Volokhov, Nikolay Voronenko, Vitaly Voronov, Alexander Gorbachev, Yury Granaturov, Vladimir Evtushenko, Nikolay Eropunov, Alexander Zhenzherukha, Oleg Krisenko, Dmitry Kuklinsky, Alexander Medvedev, Sergey Motuz, Vladimir Ryzhik, Sergey Sidoruk, Vasily Telpis, Vladimir Topchy, Vladimir Ustenko, Olga Harlan, Alexey Tselishchev, Inga Shapovalova, Sergey Shchulgach and Tatyana Shchedrova.
We will remind, earlier it was reported about, how the head of PR fraction in Nikolaevsk the City Council Alexander Demyanov reported that on a state On February 25 two statements from deputies were officially registered only, but written them thus much more. Thus he noted that from fraction deputies make the decision on an exit whether owing to the any circumstances, whether for fears, and, maybe, and in connection with change of belief.
As it is known publicly the exit from PR fraction in the City Council already declared the secretary of the City Council Yury Granaturov and deputies Vitaly Voronov, Nikolay Eropunov and Igor Kopeyka.
Unlike them deputy - "regional "Yury Antoshchenko to leave fraction doesn't gather, besides doesn't understand that the such happened, from - for what someone for itself(himself) makes such decision.