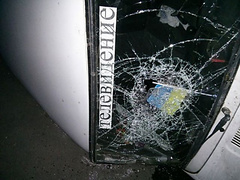 In Odessa participants of the pro-Russian action beat and turned the car "VAZ" of the Odessa TV company "The First City".
The editor of the channel Ekaterina Erskaya reported about it on "Facebook".
"Supporters of an anti-Maidan turned an official car of our film crew. Activists saw that we remove as they throw eggs the building. On the way back, probably, decided to revenge", - she wrote.
The journalist assured that none of employees didn't suffer. "The operator, the journalist and I are whole. We went behind a column. We write the application, experts" work, - she noted.
As reports Interfax - Ukraine, the pro-Russian activists on Sunday held meeting at the building of management of Security service of Ukraine in Odessa region.
Leaders of activists held negotiations with the management of SBU and the militiamen protecting an entrance to the building. Militiamen assured public men that peace meetings won't disperse. As a result leaders of an action urged supporters to come back to Kulikovo field.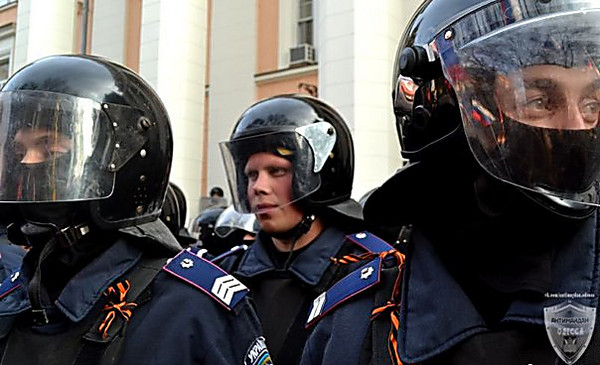 However it suited not all participants of the action - a quantity of activists everything is remained before SBU, the part dispersed. As a result only some hundred people who actively showed discontent with the leaders and lack of storm came to Kulikovo field.
It is known that meetings for integrity of Ukraine and for federalization took place in Kharkov, which came to the end with firing, as a result of collisions there are victims.
Also an action for unity of Ukraine took place in Zaporozhye. There activists of the Euromaidan surrounded pro-Russian protesters whom under "attack" by eggs, milk, a flour and petards the militia everything is could to carry out to the Management building on fight against organized crime of the Ministry of Internal Affairs of Ukraine.
Similar meetings against separatist ideas took place in Krivoi Rog and Lugansk.