Today, on March 10, activists of Progressive socialist party of Ukraine establishedon Soviet - the central street of Nikolaev- some tents. Under noisy music they distributed Kievan Rus' and National Opposition newspapers.
According to one of activists - the vitrenkovets, similar actions are held recently in many cities of Ukraine. "The protest action purpose - to force people not to be reconciled with that now occurs in the country. So it is impossible to live! ", - one of activists of the specified party declared.
"We urge all to support us on March 14 during carrying out march of a protest in the city of Nikolaev. All inhabitants of Nikolaev and area have to come for this march of a protest against actions of the selling power", - vitrenkovets emphasized.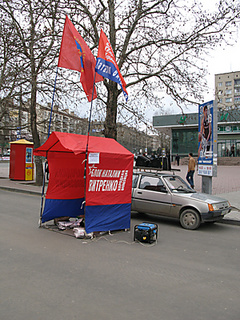 It is easy to notice that Pspushniki seriously prepare for carrying out march of a protest: on the central city streets even plies агитавтомобиль.
March of a protest will take place on March 14. It starts at 12:00 from the International bus station and will pass on Lenin Avenue (to the main main city street! ). It is possible to present only, how many inconveniences drivers are delivered "by fighters with the selling power". Protest march by meeting in Kashtanovy Square will end.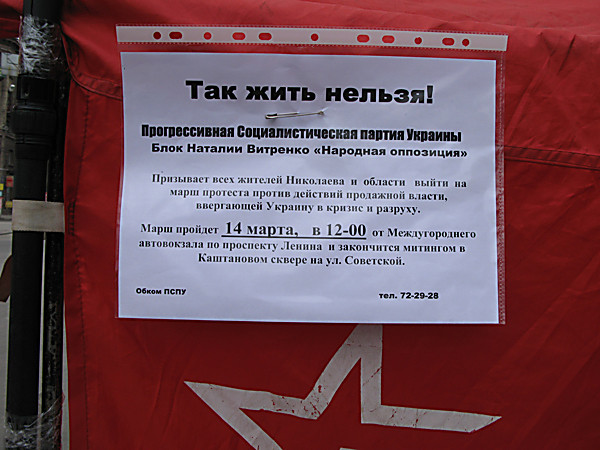 All this "action" deputies - vitrenkovets of the Nikolaev city and regional councils direct.
What turns out - vitrenkovets protest against themselves? They declare "So it is impossible to live! " also urge to fight against "actions of the selling power". And in the Nikolaev area they are in ranks of those the vlastyimushchikh against which intend to fight. We will remind that PSPU fraction in Nikolaevsk the City Council totals 15 mandates, in a regional council - 14 mandates, and in both councils they don't differ the adherence to principles. Both fractions, in fact, are completely under control to Party of Regions. And therefore on March 14 promises to become in very "cheerful" afternoon.