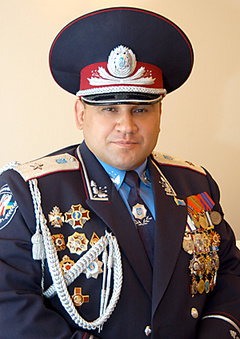 Near the building of regional management of militia in Lugansk protesters chose «national chief of militia». I became it ex-the chief of UMVD of Ukraine in the Nikolaev area the general - the militia lieutenant Anatoly Naumenko.
About it reports the edition Cxid.info.
We will remind, earlier it was reported that in Lugansk terrorists seized the building облУМВД and hung out the Russian flag. After that, N the achalnik Lugansk облУМВД Guslavsky under the pressure of extremists wrote the official report about dismissal.
While the gathered wait for an exit of employees of Internal troops who decide to hand over whom the weapon, the national chief of the Department of Internal Affairs was elected.
We will note that Anatoly Naumenko native of the city of Stakhanov of Lugansk area. I graduated from National academy of internal affairs of Ukraine. I served at various positions in criminal investigation department, I directed Criminal office of UMVD of Ukraine in Lugansk area. I headed regional managements of militia of the Kherson, Lugansk, Nikolaev areas. In 2003-2005 I directed Department on fight against a drug trafficking of the Ministry of Internal Affairs of Ukraine. In 2009 - 2010 I held a position of the chief of GUMVD of Ukraine in the Dnepropetrovsk area.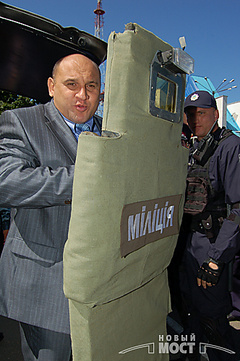 It is remarkable that the general - the militia lieutenant Anatoly Naumenko, some time ago supervised safety issues «Smart - holding» российско - the Ukrainian businessman and нардепа Vadim Novinsky.