After end of a basketball match of MBK "Nikolaev" - BQ "Kiev" on a press - conferences communicated to journalists the Nikolaev mayor Vladimir Chaika.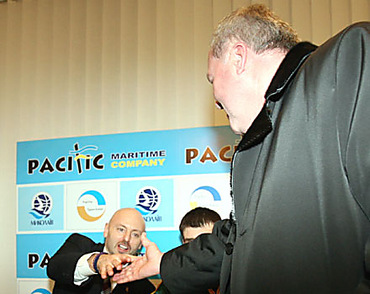 He thanked Sasha Obradovich and Oleg Saltovts for good game of the head coach of BQ "Kiev", and then in formed basketball "pause" few minutes gave to local soccer.
According to the mayor, in the last claims supposedly IFC "Nikolaev" in this inter-season period became frequent became "closed" for the journalists, all information on club on the unclear reasons is concealed. The mayor confirmed that the contract between new owners of club is already signed and the issue of financing of team is resolved. 20 percent in club are made by a share of a city community. And absence of information on IFC structure "Nikolaev" is dictated by exclusively good motives. The trainer's staff led by Kalita yet didn't decide on beginners, there is a search of optimum structure.
Vladimir Chaika promised that on the eve of spring part of the championship the press - conference at which the management of club will satisfy curiosity of the football public will take place and work of club will be based only on the principles of openness.