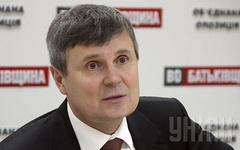 The chairman of the Kherson regional public administration Yury Odarchenko filed a resignation.
He reported about it on the page in a social network. Also Yury Odarchenko placed in a social network скан the statement addressed to the president Petro Poroshenko.
In particular, in the document it is specified that its resignation is connected with resignation of the head of the government of Arseniy Yatsenyuk.
«On July 24, 2014 the Cabinet under the leadership of Yatsenyuk Arseny Petrovich filed a resignation in connection with coalition disintegration in the Verkhovna Rada. My appointment to the post took place on representation of this structure of the Cabinet. On the basis of provisions of h. 5 Art. 118 of the Constitution of Ukraine in the activity I was guided by the principles on which it was constructed work of the Cabinet» , - Yury Odarchenko wrote.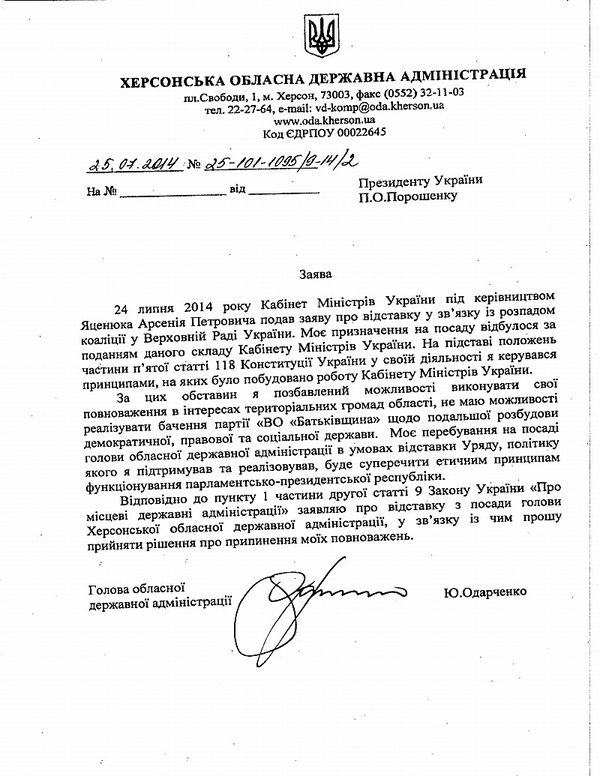 Also it points to that fact that can't realize in present conditions party instructions on state development.
«Under these circumstances I am deprived of opportunity to carry out the powers in interests of territorial communities of area, I have no opportunity to realize vision IN «Batk_vshchina» rather further development of the democratic, constitutional and social state. At a position of the head of regional public administration in the conditions of the government resignation which policy I supported and I realized my stay, will contradict ethical principles of functioning парламентско - the presidential republic» , - Yury Odarchenko wrote.
We will remind, Poroshenko I appointed the Volynsk governor head of the local campaign headquarters Gunchik.