As the first deputy chairman of the regional organization of the Ukrainian People's Party Alexey MIROSHNICHENKO reported, on March 26 addressed to the Nikolaev interdistrict nature protection prosecutor Yury PALIYA and the chief of regional ecological inspection Vitaly BABENKO deputy inquiries of the vice-chairman of Committee of the Verkhovna Rada concerning ecological policy, environmental management and elimination of consequences of Chernobyl accident of Ivan ZAYTS with the requirement about providing information about the measures taken by prosecutor's office upon destruction of green plantings in the square of Chernobyl veterans firm - the builder "Ajax-2" in the night of October 18, 2008
were directed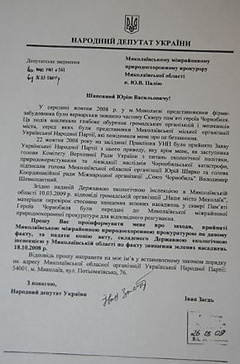 According to MIROShNIChENKO as on this fact of the vandalism which has revolted public organizations and inhabitants of Nikolaev among whom there were also representatives of UNP, on October 22, 2008 at UNP board meeting in Kiev the separate statement of the Ukrainian People's Party was accepted, the question is on control as at the chairman of regional UNP Yury SHIRKO who worked in committee on ecopolicy of the Verkhovna Rada of the IV convocation, and earlier - the chief of regional management of ecology, and the first deputy head of UNP Ivan ZAYTS holding in 2000-2001 a post of the minister of ecology.
Inquiries were directed after refusal of the State ecological inspection in the Nikolaev area to provide the statement which has been drawn up upon destruction of green plantings in the square of Chernobyl veterans, at the request of public organization "Our City of Nikolaev".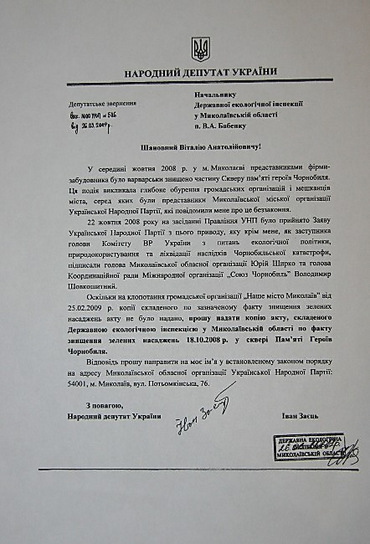 As, even after unanimous refusal of deputies of the Nikolaev City Council of all parties in rent extension to the firm which has become famous for such vandalism, the situation wasn't finally resolved - there is a need for association of efforts for the solution of this problem regardless of "flowers" and party ideology - reports a press - service MOO UNP.