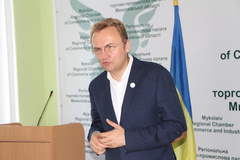 For involvement of tourists to Nikolaev, city authorities need to solve problem МАФов, and also a large number of outdoor advertizing. In addition, it is necessary to involve the western architects at design of new constructions.
Such opinion was expressed by the mayor of Lviv Andrey Sadovyi on Thursday, August 28, during a meeting with businessmen in Nikolaev regional торгово - industrial chamber.
- If you want that to you came on a visit, the city has to be pure, washed up, the architecture has to be well-groomed, all these MAFY need to be cleaned, all advertizing which at you it is a lot of. That is, it is necessary to clean the city, to repair roads, - Sadovyi declared.
He also noted «nice history of Nikolaev» , which needs to be told and shown to tourists.
- You have a nice tradition - the first ship descended from shipyard exactly here. It is success. You need to approach attentively your history, - the Lvov mayor told.
At the same time, Sadovyi advised city authorities to involve the western architects to design of new constructions in Nikolaev, with which «citizens could be proud».
- Here I would like to walk on your streets and to see the restored these fine one-storeyed lodges. I look, what they beautiful, but thrown, cluttered up. Many of them reconstructed, did ugliness from them. Earlier after all there were people wise at the power and from the point of view of an esthetics everything was under construction rather competently. And now, why - that absolutely not so, and it is necessary to protect this historical property which you have, - Sadovyi emphasized.
- Here people good, and city…And the city nedolyublenny, - was added by him.
In opinion, Sadovyi's lvovyanin, at home, which build in Ukraine in the last time, have the depressing appearance.
- You will sometimes look, something new was constructed - it is a shame simply... stuck together it isn't known from what, only that it is to earn rather a money. It has to be responsibility of the City Council, the chief architect of the city, - the mayor of Lviv considers.
We will note that earlier nikolayevets complained that «boxes» the city authorities prevent them to live quietly, and don't pay attention to their requests to clean MAFY. Also in Nikolaev inhabitants of houses near whom self-willedally put «boxes» , selling shawarma, demanded from militia to understand a situation.
At that time the ex-the governor of the Nikolaev area Nikolay Kruglov opposed mass demolition of stalls in Nikolaev, after all «in everyone «to the box» the person sits» . At the same time, since summer of last year in all districts of Nikolaev demolition of shoddy constructions began, which installation local authorities recognized illegal.
However, so far the Nikolaev officials report about taken down «pivnukhakh» , businessmen again put them on the same place.