"Crime. Is NOT PRESENT"wrote about that last night, from Nikolaev on protest action of Party of Regions activists of Nikolaev "regionals" went to Kiev. In total from Nikolaev about 300 people by seven buses were sent. Delivery of supporters of Party of Regions to this action as our edition knew, one of the Nikolaev motor transportation enterprises is engaged.
We will remind that today, on April 3, the Party of Regions holds in Kiev mass protest actions with requirements to the power to submit the anti-recessionary program and changes to the state budget.
As representatives of Party of Regions explain, it is a precautionary two-day action during which blocking of work of Parliament and mass protest actions under the slogan will be carried out: "We will replace the power - we will stop crisis! "
Protest actions take place in 4-x places: near Parliament buildings (the IV entrance I SAY LIES), the governments (a parapet opposite to KMU), the Secretariat of the President and on the Independence Maidan (a scene near Glavpochtamt).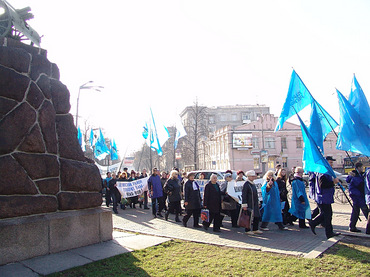 This morning at 8:00 columns in Mariinsk park were created.
And already at 11.00 the Nikolaev delegation settled down near the Parliament building where passed meeting with participation of People's Deputies.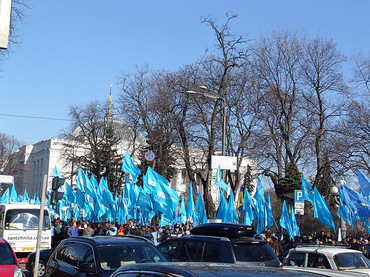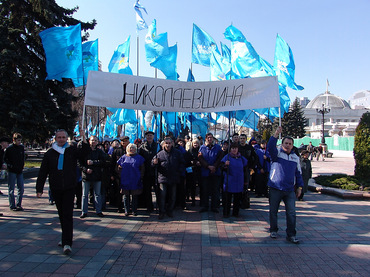 At 12:00 a column of protesters прошествовали on the Independence Maidan where protesters could hear to speech of the party leader of regions Victor Yanukovych.
"I want to call all Ukrainian people - let's give we the last chance. On April 14, as they (coalition) promised to show the anti-recessionary program... And we will draw a final conclusion … We will make a break in our protest actions", - he told.
"If such miracle - God grant comes true - we are ready to lend the shoulder. But we already practically don't trust in it … We will make a break, and the 14th I again will address to you, to all Ukrainian people, with the offer.What it will be the offer - I think, it will be simple to guess", - Yanukovych added.
At the same time he declared that the people will long not suffer the present power.
"I know that the Ukrainian people patient. But not to the same degree! Also it is impossible to play on this patience so long. Nearly 4,5 years suffered, and now - will suffice. Down with this power, also let's build such country of which we dreamed", - Yanukovych called.
He also refuted statements of the prime minister Yulia Timoshenko and leaders of the coalition that the anti-recessionary program of the government lies some months in the Verkhovna Rada.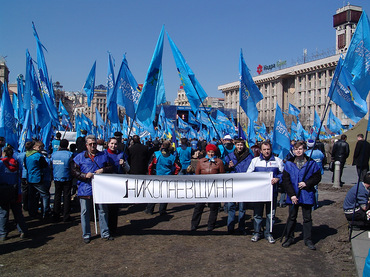 "Each step of this power - false. As well as that since December the anti-recessionary program which nobody considers lies in parliament. After all same pure lie! How many it is possible to trust it! ", - Yanukovych was indignant.
He also again accused the power of inability to fight against an economic crisis.
"I won't force passion, but a third of the industry doesn't work today. Never was such falling of volume of the industry. Even during war the situation was not such difficult as now", - Yanukovych told.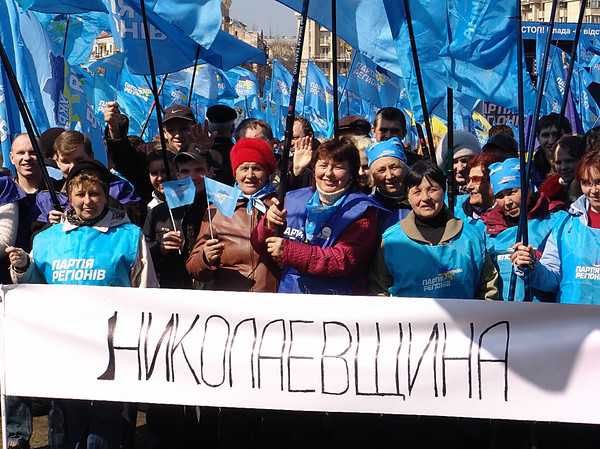 It should be noted that among those who went from Nikolaev to Kiev помитинговать, deputies of the Nikolaev city and regional councils, in particular Anatoly Semenkov were noticed also.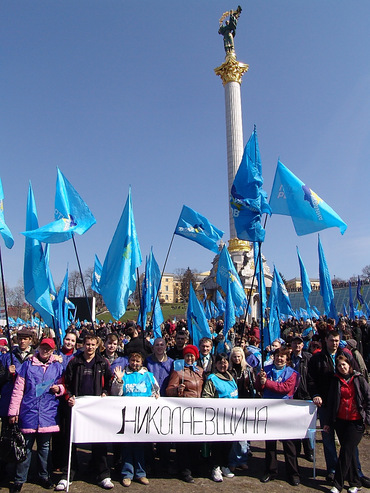 We will remind that yesterday one of those who was going to go to Kiev, told "to Crime. Is NOT PRESENT" that to them promised to pay on 150 UAH in one day spent in Kiev. Though how many they will stay in the capital and why in general there go - he at all doesn't know. "Told that it will be necessary to stand with the poster", - "fighter" for the truth and justice explained.