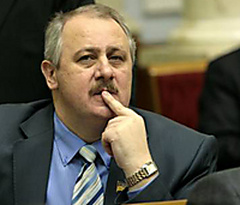 The deputy head of fraction of the Block LYTVYNA Oleg ZARUBINSKY is sure that early parliamentary elections won't be.
As the correspondent of the UNIAN reports, he told about it today during the video bridge Kiev - Moscow in RIA Novosti news agency.
According to the People's Deputy, "the question about simultaneous parliamentary and presidential election is a question virtual". He considers that it is part of "handling technologies".
O. ZARUBINSKY emphasized that the election of the president of Ukraine appointed to October 25 is next, instead of early. According to him, it is possible to discuss, as far as this date constitutionally, but the only instance which can make about it the decision - the Constitutional Court, and the statement of the head of state Victor YUSHCHENKO that he will address in KS on the matter - "absolutely correctly and correctly".
"The paradox of a situation is that it didn't address, and I don't see that it is going to address in KS. These are handling technologies", - O. ZARUBINSKY emphasized.