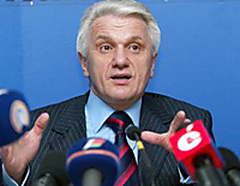 The chairman of the Verkhovna Rada of Ukraine Vladimir LITVIN is ready to suggest People's Deputies to take ballot about early parliamentary elections.
As the correspondent of the UNIAN reports, he declared it today in time a press - conferences in Chernigov where is with a business trip.
"I am ready to offer the Verkhovna Rada, to all depuy corps in a secret mode to vote who supports idea of early parliamentary elections", - V. Litvin told.
At the same time, according to the speaker, such vote has to happen at absence in a sessional hall of political leaders.
"We can predict result of such vote", - V. Litvin noted.
The chairman of BP noticed that today there is the next surge in opposition and race for power.
"I don't exclude in this regard attempts of power interception of the power, I mean through attempts to adjust to myself laws so that to solve problems of employment of these or those persons", - he added.