On the eve of the Match of all stars of the Superleague in SK "Hope" I took place a press - conference of organizers of this basketball show.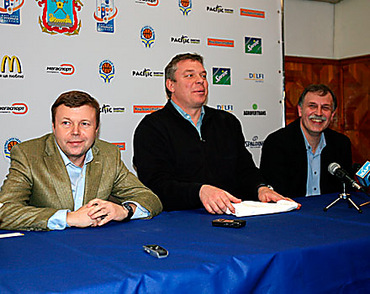 The president of MBK "Nikolaev" Andrey Cherepanov reminded that his offer to play this match exactly here is dictated at all by a lack of shows of our city. The oldest club of the Superleague in the city with semicentennial basketball traditions not without justification is proud of the fans who won't concede to anybody in Ukraine on attendance of matches of the championship, on ability to understand peripetias of this game.
The president of federation of basketball of Ukraine Alexander Volkov continued that nikolayevets perfectly cope with a role of owners, and experience of last years allows to be put on that the match of all stars of the Superleague will pour out in a fine show. And for the first time FBU doesn't participate in show financing. All expenses were assumed by sponsors. And it proves once again that basketball in Ukraine becomes attractive to business and further can earn means as the commercial enterprise. A. Volkov handed over to the representative of JSC DELFI Arnis Ozols a national team undershirt "Stars "Ukraine" as a sign of effective cooperation.
With a particular interest present journalists expected speech of the director of the Superleague Algimantas Pavilonis. After all this day it carried out discussion of drafts of authorized documents of the Superleague with representatives of clubs. Perhaps, journalists "treated" with careful optimism. The most concrete: discussion took place, on all fundamental questions participants came to a consent. In the next few days the draft documents, finished taking into account amendments and wishes, will be dispatched in clubs. It is possible to assume that current month they will find the legal status as teams begin preparation for future season.
The head coach of the national team of Ukraine on basketball Valentin Melnichuk called structure "Stars "Ukraine" frame of a national team which should be overcome in the summer for a place in the highest European division. However there are at us two representatives in National basketball association who can strengthen the national team. However, whether they will arrive on training collecting in the summer, guarantees while aren't present.