That the next hand-to-hand fight Championship of Ukraine will take place at us, in Koblevo, on April 11, and that ours will occupy prize-winning the second, a place, I knew long ago.
"Ours" are a Club of martial arts "Lynx" which is included into the Nikolaev regional Association of hand-to-hand fight, and it is included already into National federation of hand-to-hand fight of Ukraine, and that is the member of the International federation of single combats (IBF).
Here so everything is difficult. If it is short - our Lynx "cool", and across Ukraine took the second place.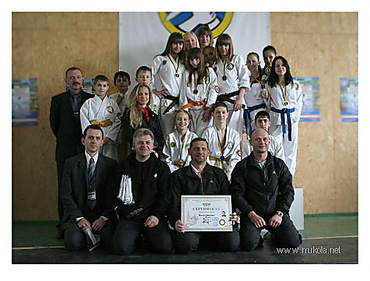 The president of federation Vladimir Timoshin also told about it, by the way, in interview to the largest TV channels of Nikolaev.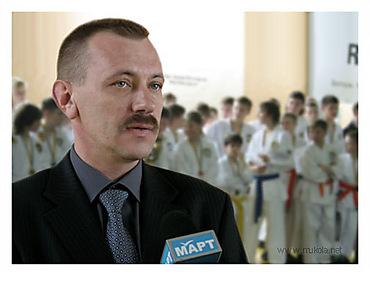 He also congratulated Alexander Minenko on the third Dan.
I yet didn't become the real karateka and poorly I know that such the third is given as it is difficult to get him and that with him to do, but judging by contented faces and the owner, and his pupils, it too is honourable and it is difficult to earn.
Yes. Alexander Minenko the first vice-the president of federation, and now at it the third is given. At Timoshin of the second, it is slightly worse therefore also the figure is slightly less, about it it is possible to look on the official site of federation.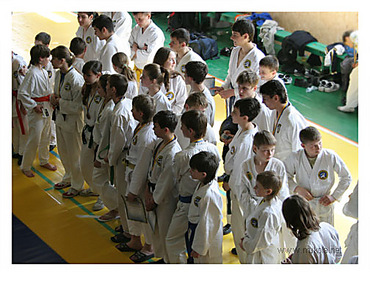 Participants was much, it is a lot of. More than 450-ти. Arrived almost from all large and small cities of Ukraine. Inscriptions on a kimono (it is clothes of karatekas on weekdays days of trainings and days of competitions) Odessa, Cherkassy, Dnepropetrovsk, Kiev …
flashed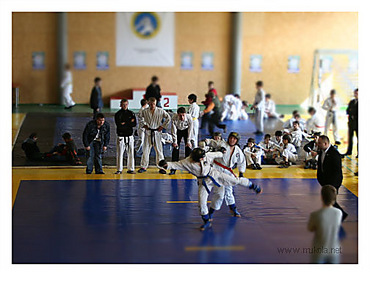 Yes - and, not really - that I envy "Lotus" (recreation facility in Koblevo). To receive such crowd … to place, feed, look after. But children, and all participants till 18 years, were happy.
Sea nearby, mass of new friends … Weather these days the simply remarkable stood.
It is a pity that only four days.
On a week … to have a rest from school.
I represent, with what regret they left.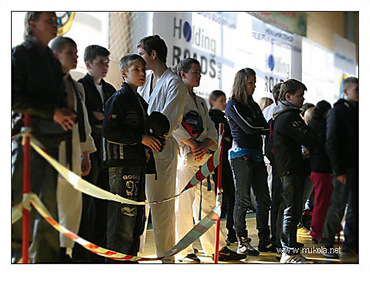 All supported the. Encouraged - taught.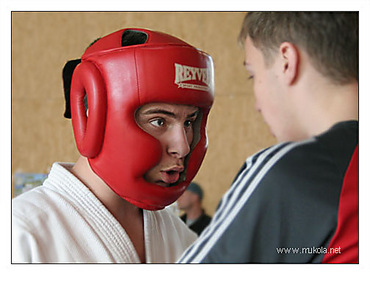 Worried and fought.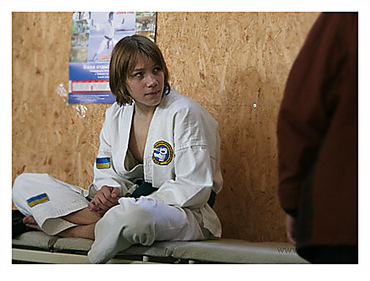 Warmed up feet before fight.



Feet knead that then it is successful to give them to the rival in certain places.
Thus difficulty is that it is necessary not to strike, namely to record, show, note blow.
But it is necessary to consider that your rival doesn't stand still at this time and tries to do the same and with you.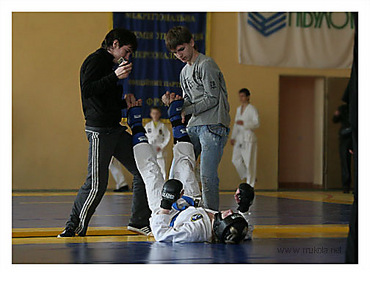 Here in the photo to the fellow two penal balls that hit into the resolved places got not there, for it to his rival, instead of simply waved a hand.
These competitions and are called - on a lung and dosed to contacts therefore it is necessary to be careful, and even on points it is possible to lose.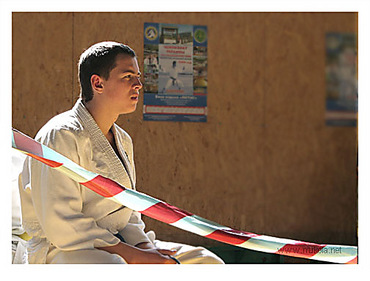 All worried about the. Watched, looked behind mistakes.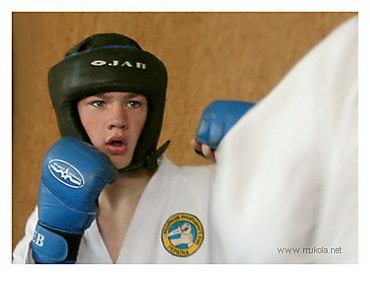 All athletes in protective helmets and gloves.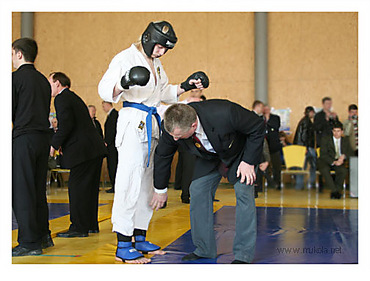 Judges surely check equipment that there or a kuvaldochka who didn't hide a hammer. At these competitions such didn't reveal.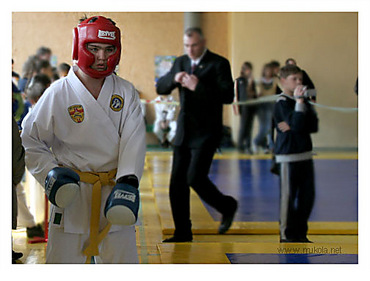 Before fight the athlete has to adjust himself and … in fight.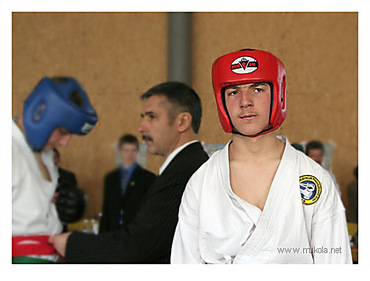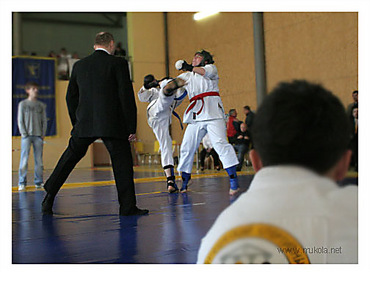 This type of competitions is enough spectacular, to come off any couple very difficult, at once you choose to itself whom to support, and you endure about it all duel.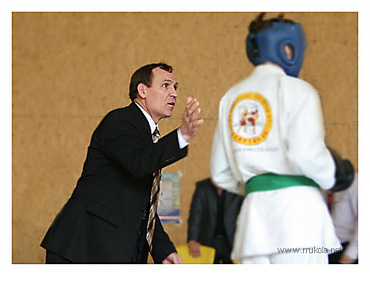 Trainers too participate. Besides, that they within years - years train these boys, they know that without friendly pokhlopyvaniye on a back the guy won't win.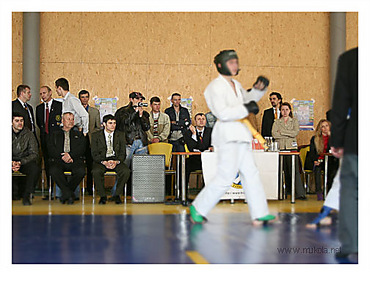 Here I thought: judges sit to themselves at little tables, a water drink. But. Try to follow here all fight moreover from the different parties. Therefore judges that prompted what you won't follow were thought up.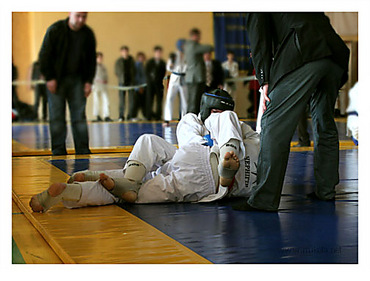 And sometimes such balls turned out. It after all competitions of hand-to-hand fight, and not only dot blows, but also "dumps".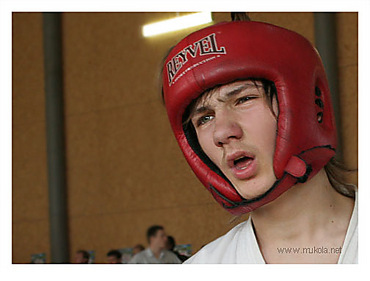 After fight it is breathed not really - that and is easy, the benefit of halls in "Lotus" free, light and it is enough capacious.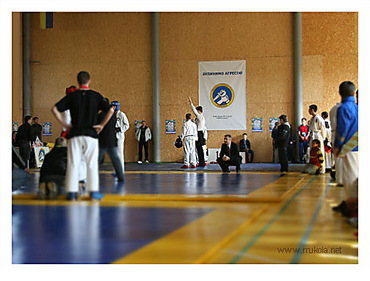 Fights here went on three tatamis at the same time. It is simple to follow all it was impossible.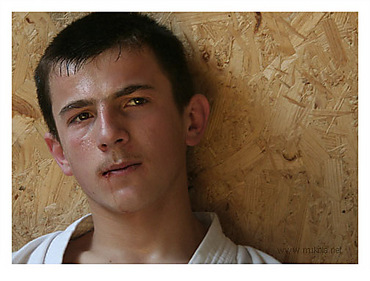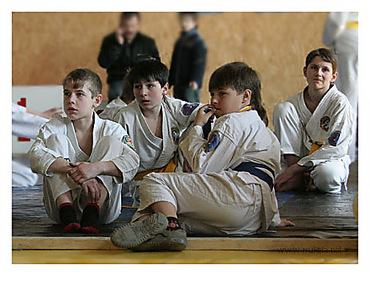 From the senior groups it is probably most difficult for guys, they are watched fixedly by the younger. It is necessary to maintain reputation and to try with might and main.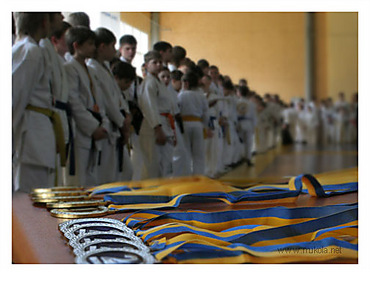 Here how many children don't hang around on the Ukrainian streets and if to consider that it only the part of those clubs which are scattered across all Ukraine, turns out much.
Construction before rewarding.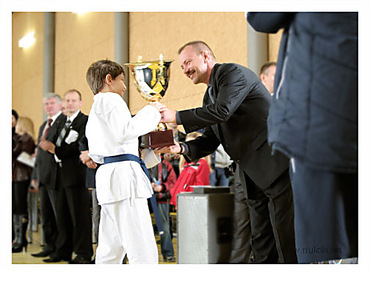 Yes, organizers tried.Conditions for participants, halls, the sea, prizes from sponsors … worked …
The question of carrying out right there, on recreation facility "Lotus", the international hand-to-hand fight competitions among, approximately, 19 countries is now considered.
So, sponsors, you ring in advance "Lynx", take places on future posters and banners.
Torgovo - the industrial chamber too sent the representative with congratulations to participants, Grigory Hozyainov. At Grigory Borisovich is, by the way, the Canrays club which as well as the management of the Lynx, works with children and haunts them minutes. Doesn't remain at them to time neither for drugs, nor for a carousal.
And as the best proof of it faces of these boys serve. Happy, light and proud.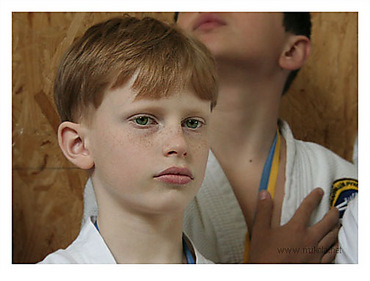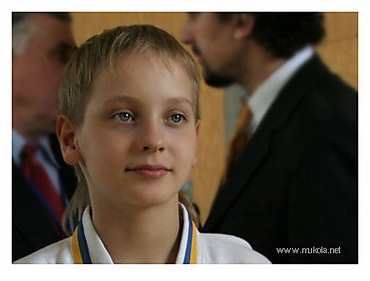 I remind once again to sponsors of the International Championship.