Today a press - conference "Illegal activity of the honourable citizenNikolaev- the chief physician of maternity hospital No. 1 Evgeny Volokhov", initiated by the business owner Vadim Kolesnikov, I turned into buffoonery. Except the acreditirovannykh of journalists whom passed in a conference - a hall, "defenders" of mister Volokhov - residents, representatives of a depuy corps, managements of health care and other also came
.
That the truth, the deputy of the City Council Valery Burkun who is the member of the same party of the chief physician - the deputy Volokhov, refused to pass in a hall without other representatives of the public. Organizers of conference worried that opponents will suit disorders and intended to hold conference behind closed doors which were already blocked by opponents.
Conference didn't take place. There came representatives of law enforcement agencies who, despite that g - N Kolesnikov and rented a hall, couldn't remove force the indignant party twice.
Upon termination of rent time organizers were honored - to give the comment the journalist and to distribute the materials according to them convicting corruption activity of Evgeny Volokhov. On this, final part of "the marlezonsky ballet", the deputy Burkun deigned to pass.
As it appeared, all bother occurred from - that Vadim Kolesnikov, and also some other businessmen who are engaged in private in a photo and video filming, couldn't begin the activity in maternity hospital No. 1. According to Kolesnikov's statement, photographers addressed to Volokhov with the missive, the answer didn't receive, and the vacant place was taken by other photographers, without procedure of carrying out the tender.And still the organizer of conference claimed that women in labor are compelled to pay expensive shooting (in maternity hospital one photo - 10 UAH, an UAH disk 180, whereas at Kolesnikov 7 and 100 respectively), but also bad quality …
As Valery Burkun commented later, businessmen at all don't know capture process in rent of the room of municipal property - maternity hospital, and that leasing of the room of maternity hospital not in competence of - on Volokhov …
On that also dispersed, but organizers promised that continuation follows …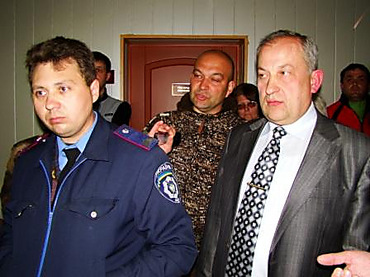 On the right - the deputy of the City Council Valery Burkun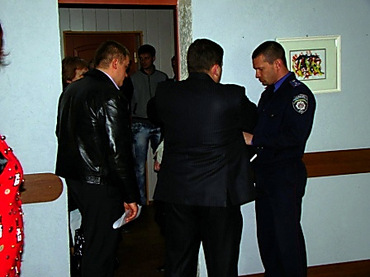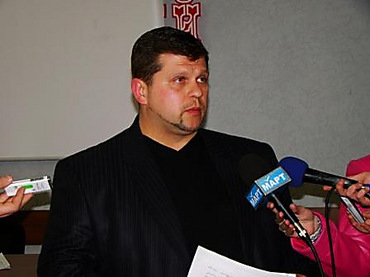 Business owner Vadim Kolesnikov