People's Deputies from fraction of Party of Regions hanged out posters in a sessional hall of the Verkhovna Rada, but they were broken by representatives of the coalition.

In particular, on a presidium tribune regionals placed the poster Government of National Ruin - in resignation!.
This posters was broken by the People's Deputy from BYuT, nikolayevets Gennady Zadyrko.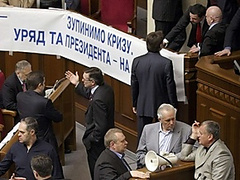 Besides, People's Deputies from fraction of Party of Regions tried to hang up the poster in a bed where usually there are judges, - Such Litvin isn't necessary to the country.
But the People's Deputy from Blok of Litvin Ekaterina Vashchuk broke also this poster. Also its verbal sparring with the People's Deputy of Ukraine from fraction of Party of Regions Pavel Sulkovsky took place.
Thus deputies of the party of regions didn't declare any further intentions, in particular, possibility of blocking of meeting of parliament.
We will remind, today People's Deputies of the Verkhovna Rada again couldn't include three anti-recessionary bills which acceptance is necessary for continuation of cooperation with the IMF in the agenda. Inclusion in the agenda of anti-recessionary projects, as well as on March 31, wasn't supported by part of WELL fraction - NANOSECOND.
Yulia Tymoshenko Bloc, unlike For Ukraine! I called vote failure and I predicted that after that the IMF will give to Ukraine "the negative answer".
Meanwhile, the President expects from the Verkhovna Rada of constructive and fruitful work this week. Still yesterday he urged the Verkhovna Rada to accept cooperation of Ukraine necessary for renewal with the IMF bills.