On April 17"Crime. NET"wrote about that in Nikolayevshchina vandals "painted" with a swastika the memorable stele established on a place of mass execution by fascists more than 8 thousand Jews.

After this information became known, representatives of authorities promptly decided to react to incident.
On the same day, when there was a publication, on a scene - to a monument -representatives of regional public organization "Jewish Community" and officials left the regional state administration. About it reports department of affairs of nationalities of the regional state administration.

"As told on a place VoskresenskийruralaboutlоваNikolay Kramarenko, several days ago the staff of management of SBU in the Nikolaev area reported it that a monumentit is spoiledswastika. Information was confirmed. In the same day to the place of there arrived police officers, recorded this fact andstarted toпровto edeniyequickly - следственныxactionй. Now business upon vandalismconcerningmonumentandis under consideration in the Zhovtnevy District Department of Internal Affairs of the Nikolaev area", - it is spoken in the messagedepartmentandfor nationalitiesNikolaevregional state administrations.

Also in the message it is spoken:"Next day,after documenting of the fact of vandalism, Nikolay Kramarenko with representatives of a rural community personally ordered a monument, wiped paint and cleanedterritoryround a stele.Tjoint stock companythem in a way, authorities quickly reacted to annoying incident".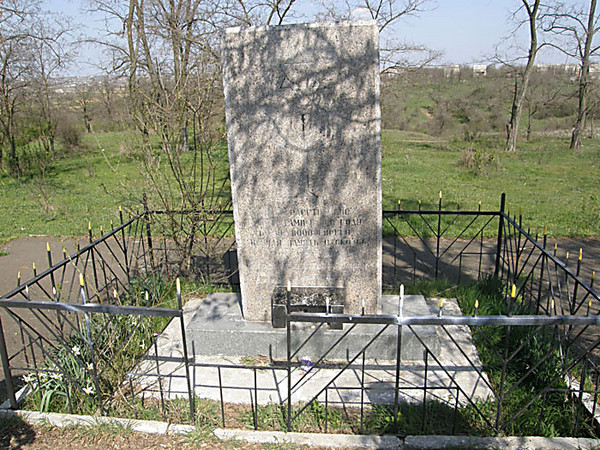 According to rural the heads, the hooligan trick takes place, most likely, from minors, ingo locals respectfully treat and the monument, and memory of those terrible events, whichoccurred on this placein 1941.
AsI declaredhead of the Nikolaev regional public organization "Jewish Community"Mikhail Goldenberg, such shameful examples for the Nikolaev area aren't characteristic. If they also happen, the power, the public and law enforcement agencies quickly react to them. He considers that it is necessary to strengthen educational work in educational institutions more to tell young people about events of the Great Patriotic War andtragediesHolocaust to bring up the tolerant attitude towards representatives of all nationalities and the general history.

Head of department of affairs of nationalities of the regional state administrationElena Ivashkorecognizes a postydnost of similar acts and too connects them with shortcomings of youth education.

-Only narrow, uncivilized and shameless people could arrive in this way, - she notes. - Attempts to give to events shades of incitement of international hostility have nounder itself anybases.

Also it reminded that in 2007 the head of the Nikolaev regional state administrationAlexey GarkushaI signedpersonal errand "About streamlining and proper maintenance of places of mass executions, burials of representatives of ethnic minorities during the Great Patriotic War".Control over the implementation of this assignmentis on continuous control in the regional state administration, department of affairs of nationalities and in regional public administrations.

From"Crime. Is NOT PRESENT":inozmozhno, ifinformation on this act of vandalismnotit was sounded in mass media, no reaction from representatives of authorities would exist in general.Why before emergence of a material about an event were silent all both representatives of authorities and the Jewish community..It is impossible to suppress similar problems simply on simply, after all without sounding them and without stopping similar manifestations of anti-Semitism, it is possible to wait for the moment when to solve a problem will be already late. We hope that it is really hooligan tricks of teenagers and anything more. If the similar occurred in any European country,the governor would address at least. Andour authorities declare that everything is at them under control andtold about the"heroic act"onto otmyvkamonument.
REFERENCE:In August, 1941 fascists took out from Nikolaev by 22 cars of citizens of the Jewish nationality for work to collective farm "A way to new life"Inoskresensky Village Councilyakon gathering vegetables. Actually them delivered in a beam between the villages of Voskresensk and Kalinovka where shot. In total in this placeit was destroyedabout eight thousand civilians: children, women, old men. Executions lasted for three days. Near a place of executions there is a source which locals called "the Jewish tears". During massacre water in it was red from blood. To erase traces of the crime, fascists brought to the place of executions of 50 prisoners which took out corpses from a ravine, poured over them gasoline and burned. These prisoners alsoshot. On a place of the mass death penalty of Jews in 1998I wasthe memorable sign is established. The monument is looked after by pupils of the Jewish school "Shouting Menakhem".