Peculiar "design" of receipts on payment for zhilishchno - utilities became a reason for discontent of deputies with actions of the Nikolaev combined heat and power plant and "Nikolayevoblteploenergo".
"Design" is that the known poster Kukryniksov is a little modified - in the form of Hitler residents are represented.
According to the deputyGalina Yaroshenko, which sounded on 34-й sessions of city council on April 28 deputy inquiry in this occasion, this insult of citizens, and for this management of "Nikolayevoblteploenergo" and the Nikolaev combined heat and power plant have to apologize surely before residents especially as ill-fated receipts arrived to consumers on the eve of the Victory Day.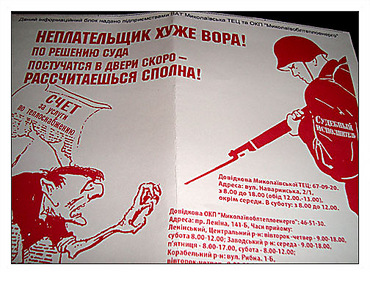 The deputy from the block N. Vitrenko was supported by all. Head of PRfractionPyotr ZibrovI expressed opinion that heads have to apologize the same as they caused an insult, i.e. on accounts from GIRTs.
Thus, the deputy - byutovetsconsidersSergey Palivoda, heatpower engineering specialists it is necessary to oblige to make other leaflets at the expense of their profit.
As a result refer that as "priglashalshchik" of heads of the heatsupplying organizations to deputies the mayorwill actVladimir Chaika- he promised to talk over with them already today.
And "on a carpet" at deputies from them wait for specific proposals about that, how exactly they will apologize before nikolayevets.