Near1500the person gathered for May Day demonstration in the center of Nikolaev.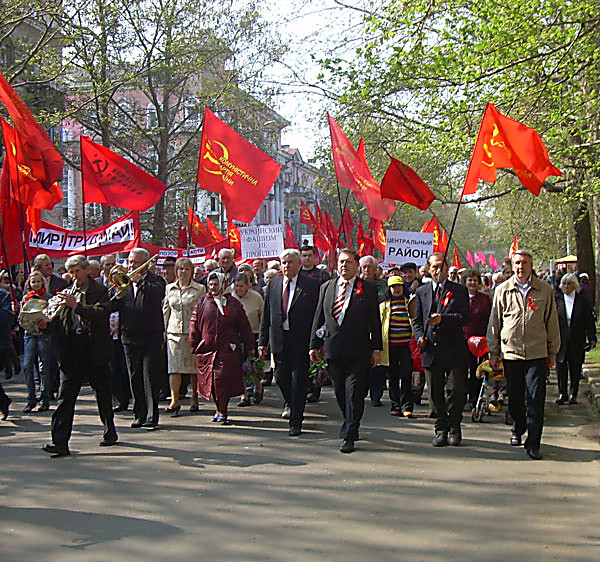 As the correspondentreports"Crime. Is NOT PRESENT", near800the person, supporters of the left forces -Communist party of Ukraine, PSPU and Socialist party,walked a column on the central street of Nikolaev - Soviet.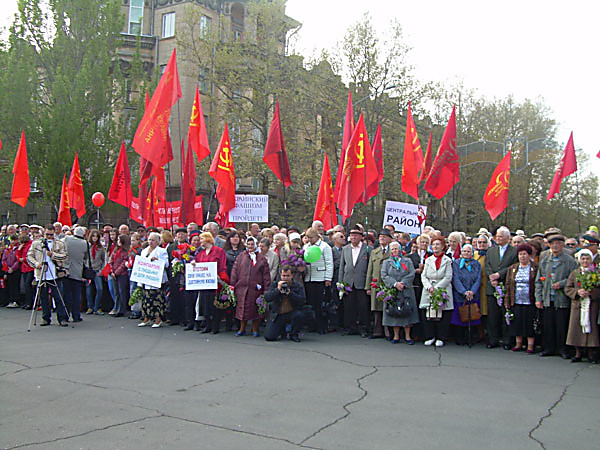 Heads of the KPU Nikolaev regional organization the People's Deputy of Ukraineheaded to colonVladimir Matveev, and deputy of the Nikolaev regional councilNikolay Dzardanov.
In hands at demonstrators red banners with Communist Party symbolics, and on a breast red ribbons. Communists make slogans:"Communist Party with the people", "Glory to work", "With people and for people", "Get Yushchenko and oligarchs", "The worker - worthy life".
Also at the head of a column I passed a festive orchestra.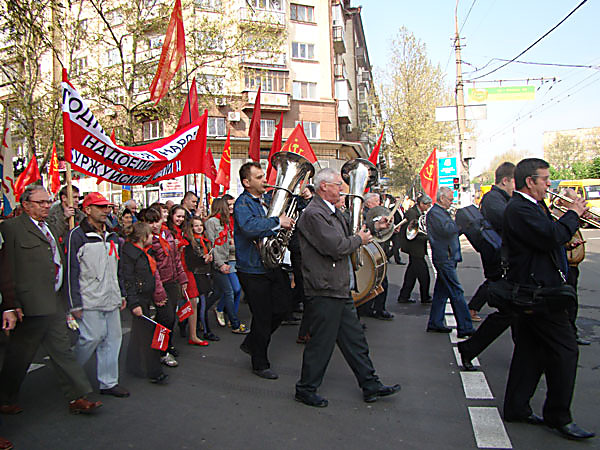 At once for communists socialists were built. Having passed on Soviet, participants of May Day action stopped on Lenin Square where representatives of PSPU approached also. There established a small scene with which representatives of these three political forces addressed to the gathered nikolayevets.
The first the floor was taken by the People's Deputy of UkraineVladimir Matveev.Its performance was reduced to that he told KPU position concerning the present power and to the political forces presented in the Verkhovna Rada. "It is necessary that all political forces cleaned all councils from the lists of oligarchs. If it is made, it isn't required any early elections", - declaredV. Matveev.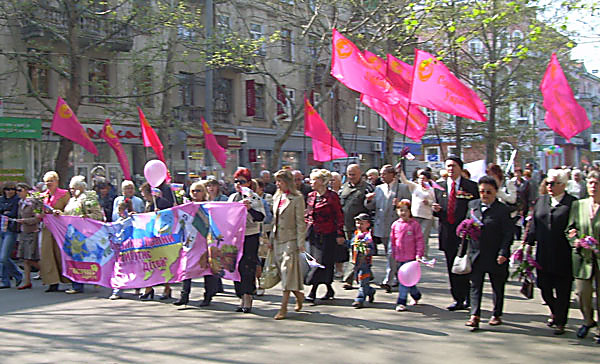 Didn't do and without charges in the addressPresident and Cabinet of Ministers. According toV. Matveeva, they brought the country to such state.
The deputy of the Nikolaev city council fromPSPU Dmitry NikonovI started being indignant with a scene about that turn recently a holiday of the May Day into a carousal and forget about its history. From its performance it was possible to draw a conclusion that in everything nationalists are guilty.
It should be noted that all deputies of the Nikolaev city council came to meeting frompracticallyPSPU, and not simply came, but also held flags. Really crisis so struck across Vitrenkovtsam, what deputies already are compelled to fly flags? In the best times it was done by specially trained people.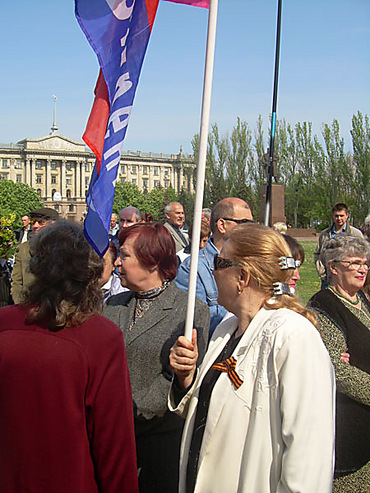 First secretary of the Nikolaev city town committeeSPU Oleg BaranovI called all will unite, after all, according to him, only this way it is possible will cope with crisis.
Nikolaevregionalscompletely ignored May Day actions, though certain representativesParty of Regionsit was possible to notice on meeting.
I held the action devoted to Day of solidarity of workers also regionalFederation of labor unions of Ukraine. To go on Soviet together with communists, socialists and Vitrenkovtsami representatives of FPU why that didn't want.They moved forward in the direction to Lenin Square while supporters of the "left" forces already approached to a venue of the meeting. Here to you and solidarity of workers! The column of FPU was headed by the chairman of Federation of labor unions of the Nikolaev areaMargarita Sapozhnikova.On trade union members "wanted" and to listenorchestra"left", possibly for this reason invited the which playedmelodies of the Ukrainian national songs.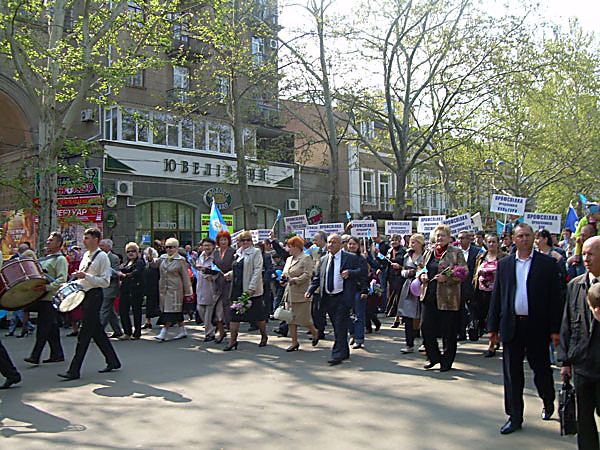 While the column of FPU passed by a scene on which there were leaders of KPU, SPU and PSPU, the deputy of the Nikolaev regional councilNikolay DzardanovI didn't miss opportunity to express the indignation, and I paid attention thatM. SapozhnikovaI arrived not really beautifully. According to him to it suggested to hold the general event, but she refused.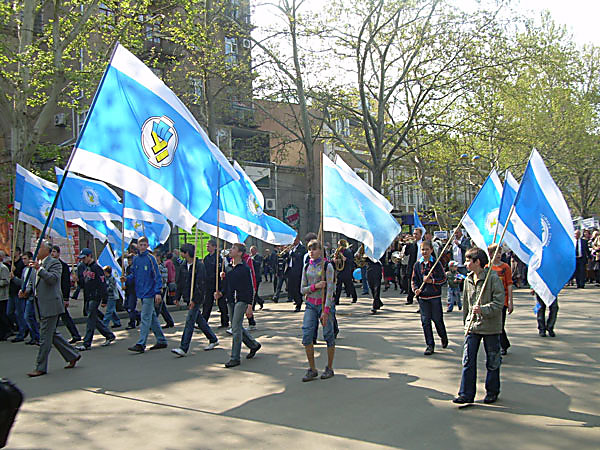 Supporters and representatives of Federation of labor unions of Ukraine, having approached to the Trade Unions Building dispersed who where - on so-called mayovkas.
The law and order during May Day actions was provided by rather large numbermilitiamen.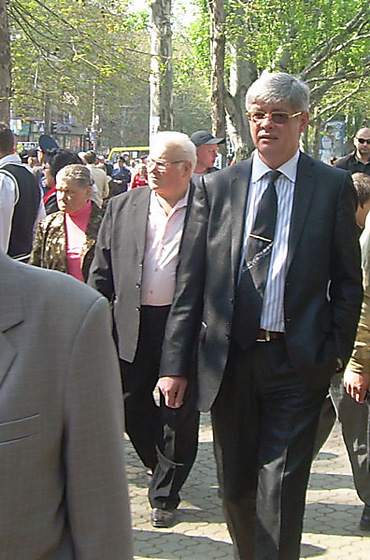 Chief of the Nikolaev municipal government of militia E.Sureev
On Sovetskaya Street it was possible to notice and the chief of the Nikolaev municipal government of militia Evgeny Sureev. According to him, he came to look behind how the staff of the management entrusted to it works. "Meanwhile anyincidents and disorderly conduct it wasn't recorded", - I told to the correspondent"Crime. Is NOT PRESENT"chief of the Nikolaev municipal government of militia.