... Here such show appeared yesterday to eyes of nikolayevets who happened to bearound the main pedestrian streetNikolaev-Soviet. In couple of tens meters from crossing Soviet with Lenin Avenue asphalt failed!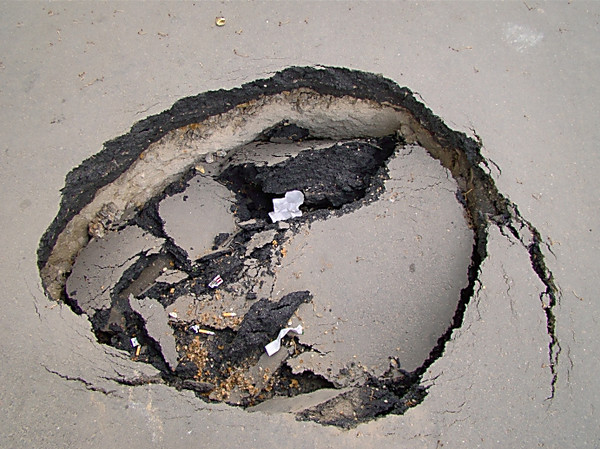 And after all not further, as last year in it "rolled up" almost2 million budgetary hryvnias!We still remember, how many inconveniences unexpected repair of the main pedestrian street of the city caused. And the main bewilderment of citizens was caused by its fact. Who and why suddenly needed to change still quite decent asphalt when in the city there are also other more essential "troubles"? Well, fools and roads is a classics, and here roofs in the houses which have remained without repair, till fall again began to flow …
"To the City Day we changed asphalt on the central street of Nikolaev. Now at girls who go on Soviet, heels won't get stuck in cracks. More they won't abuse the mayor and to speak of what he bad", - it is proud declared in September of last yearmayor V. Chaika.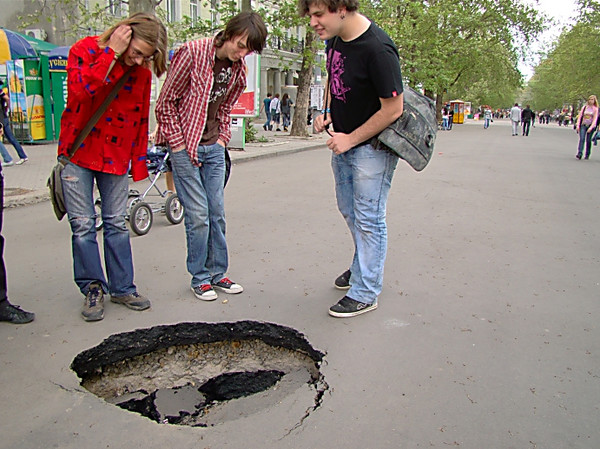 Judging by a break which was suddenly formed directly in the center of the main pedestrian street of the city, the mayor is right - now heels of girls precisely won't get stuck in cracks. Because in such cracks of the girl can easily fail, especially in a night-time.
We will remind that Soviet is the longest (1,5 kilometers) a pedestrian street on open spaces of the former USSR. And its width in places reaches nearly 16-ти meters.
- The decision was made collectively and jointly, - willingly reported then, answering questions of the correspondent"Crime. Is NOT PRESENT"director of the department of housing and communal services Vladimir Novozhilov. - This problem was designated on executive committee of city council, then is given in study in housing and communal services Department.We made offers of the constant deputy commission on improvement, they supported this idea, and I already started developing then technology …
However the Nikolaev organizations weren't involved in reconstruction of the central street - the choice stopped in Asphalt — LTD. firm from Krivoi Rog. Reason?
"Because forces of our road builders which got used to work, well (pause) at average quality not to make it … It is a person of the city, this favourite vacation spot of tens of thousands of nikolayevets and guests of Nikolaev", - V. Novozhilov told then, having noted also that "repair has to be sound".
"… We completely will cut out an old layer of asphalt because on it to impose a new layer is unpromising - there will be no quality. And to us it is important that it there was a street with a qualitative covering" - I echoed itmayor Chaikaon one of a press - conferences …
Well, good quality of a covering and quality of the performed works didn't pass check by time. And after all didn't pass also years. Whether short-sightedness of the authorities not too costs much to us? They say that the clever study on errors of others, and fools do the new. There is a wish to add only - easy to be mistaken for taxpayers money - that is our …
Unfortunately, a problem of irrational use of budgetary funds - one of many other, not less expensive miscalculations of the authorities. Probably, that is obvious to citizens is inaccessible to their look.
For now it is necessary to guess only where once again there can be a break of "man-made bark", the covering city street and how many our money will be still buried in asphalt …