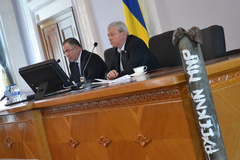 On Thursday, March 12, during session of the Nikolaev city council deputies supported the decision of the Verkhovna Rada Ukraine which Russia was recognized by the state - an aggressor, and fighters «LPR» and «DNR» terrorists.
About it from a place of events the correspondent reports «Crime. Is NOT PRESENT».
For the beginning of session in a hall 56 deputies were registered.
At session there is a People's Deputy of Ukraine, ex- «regional» Artem Ilyyuk. Besides, in a hall there are participants protest action which took place the day before sessions, they hold in hand posters with inscriptions: «Russia–country aggressor. Route feudal lords of wons!» , someone from activists brought to the hall a shell from «Hail» , brought from a zone of carrying out Anti-terrorist operation in the east of Ukraine.
Chronology from below up:
10:40The mayor of Nikolaev Yury Granaturov read the full draft decision which is offered to acceptance where sounds that the Nikolaev City Council supports the decision of the Verkhovna Rada on recognition of the Russian Federation by the country - an aggressor, and fighters «LPR» and «DNR» terrorists. After that the question was once again submitted for vote. As a result for almost all attendees in a hall of 61 deputies voted, only 1 deputy refrained. Activists applauded. It is remarkable that in a hall wasn't any deputy from fraction of Communist party of Ukraine.
10:37The deputy Elena Kiselyova suggested to peregolosovat after read the full address.
10:35Protesters continually cried out. Granaturov urged them not to arrange in a hall of show.
10:33The deputy Tatyana Suslova noted that the text was read in support of our soldiers.
- But I didn't hear the main thing. After all the document is devoted to that we support the decision of the Verkhovna Rada, - she told.
10:30The mayor of Nikolaev Yury Granaturov put the address to the vote. For 47 deputies voted, didn't vote - 13, only 60 attendees.The die is cast.
However, the participants of a protest who are present at a hall began to shout in a hall, them revolted that in this address doesn't sound that Russia–aggressor.
«Ganba!» - protesters shouted.

- Will be enough here to be the cleverest, will be enough here to be the most patriotic!–the mayor answered.
10:27Initially attendees heard the address of deputies which will be submitted for vote.
«All of us want that in each house there was peace and harmony…We will stand!» - it is told in the address.