In the residential district Levanevsky located on lands of the Ministry of Defence of Ukraine, operations again are outlined. Having learned from reliable sources that in one of green zones of the residential district the next construction is planned, last Sunday alarmed inhabitants exposed there picket. The matter is that for this site, in use called "Kerchief", about four years ago in Levanevtsakh was waged real war, and only thanks to the unity, inhabitants rejected resolute pressure of the builder, and the city management assured them that no construction in this green zone will exist and can't be. Considerable activity showed then deputies of the party green which helped people with planting of new trees on a place already destroyed by the builder. Generally, justice triumphed, and the green zone in more than 5 thousand square meters was rescued. However in 2009 of an event took a new turn …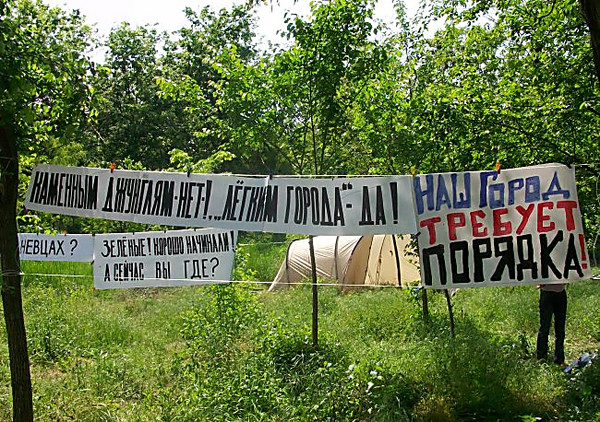 - If you remember, the day before 33-й sessions of city council our inhabitants left with picket under the Executive Committee of the City Soviet of People's Deputies, demanding to remove the land questions across Levanevtsam. Deputies fulfilled our requirements and made the decision to create the working group which would leave into place to understand a situation. As a result the working group decided: it will be possible to make a final decision on this site only taking into account opinion of inhabitants of all residential district. It was reflected and in the group minutes. But literally the other day we knew that in the protocol decided to change the formulation and to write down: on an above-mentioned site to submit a question of construction for consideration of town-planning council. What does it mean? And that the working group, thus, decided to decline all responsibility for a verdict of town-planning council. Knowing about "miracles" of the last, we also took these radical measures, - the chairman of committee of self-organization of the Residential district "Levanevsky" of Lydia of ShUST explained.
After emergency meeting of KSN, inhabitants pitched tent on "Kerchief", hanged out on its perimeter posters with the requirement to stop destruction of green zones in the city, and also organized petition in protest at planned construction on this site. It should be noted that among opponents of construction on "Kerchief" there were many representatives of young generation of the residential district - they in unison the adult declared categorical "no" to destruction of this green zone.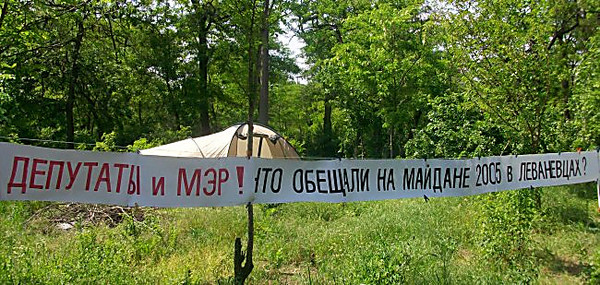 The member of KSN "Levanevsky" Vladimir Lopushnyak noted that it is impossible to build in "Kerchief" not simply - dangerously:
- This "kerchief" gets to a hundred-meter coastal zone in which under nature protection laws it is forbidden to build, it is time. In - the second, as far as I know, firm - the builder experiences now considerable financial difficulties so it is the most probable that having caught a delicious ground, firm it will soon resell. Well and in - the third, behind loud statements of the city authorities about need to provide with housing of our military personnel in Levanevtsakh impudent squandering of lands of the Ministry of Defence and destruction of green plantings of the residential district is covered. For example, in the ten-storied house No. 12 which is located in several tens meters from "Kerchief", the apartment was received by only one serviceman.
By the way, according to Lopushnyak, in this house ring cracks that testifies to the weak base of the building went. "Here it is impossible to build - after all to a waterproof layer of earth only one and a half meters! Also it isn't known, what destiny waits multystoried new buildings already built here" - he added.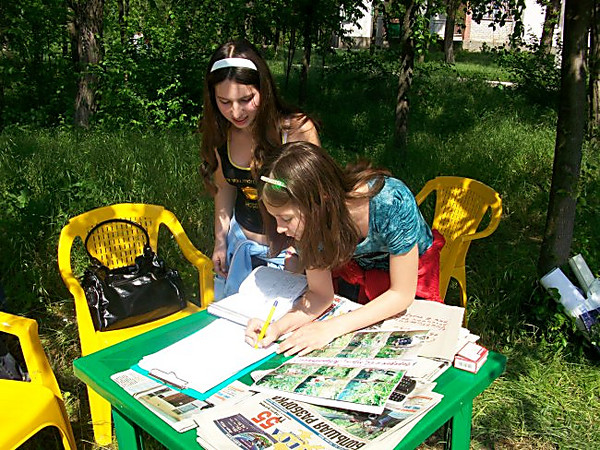 The similar opinion was expressed also by the activist of KSN Vladimir Kurilets, having with regret added that the deputies sharing a position of inhabitants Levanevtsev, it is possible to count on fingers of one hand.
- We repeatedly addressed to a depuy corps to give to the residential district the status of a park zone, but alas … While it is ineffectual. Though on the new General plan our residential district is a continuous green spot, - Kurilets summarized.
But the General plan, as we know, still isn't approved, so, except "Kerchief" in which defense inhabitants Levanevtsev rose now, under the threat of destruction there can far be not one green site. After all the residential district area - 51 hectares from which under green plantings to be slightly less than a half. Whether will consider all this the working group which departure in Levanevtsakh expect today by a dinner, - will show time.