In the morning on May 22 at a monument to Taras Shevchenko nikolayevets celebrated Day of a reburial of ashes of the poet. School students and students came with flowers, officials made ardent speeches about great Taras Grigoryevich's feat.
While civil servants pushed the speech, it became bad to two girls who in the Ukrainian national suits stood right in the sun near a monument. When the floor was taken by the mayor Vladimir Chaika, for one of girls emergency doctors already approached, put on a stretcher and carried away.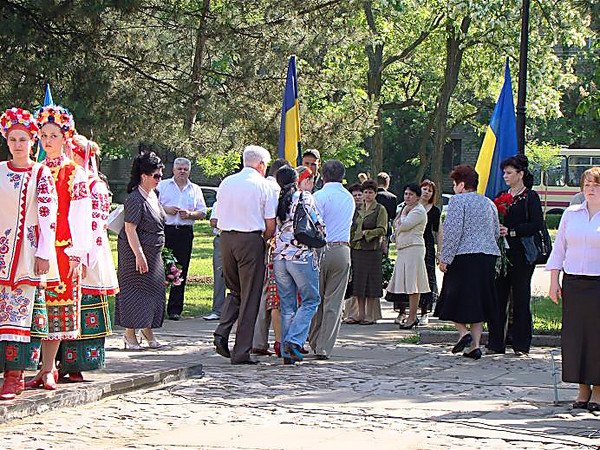 Even before arrival of physicians I gave "first aid" of the victimchief of regional management of culture Mikhail Dimitrov
- Comprehending return of ashes of Shevchenko to Ukraine, there is a thought, actually we it so-so and didn't return, - the head of a regional cell of the All-Ukrainian society "Pro-suite of a Name of Taras Shevchenko" Nadezhda Ogrenich told. - And that Shevchenko's return to Ukraine lasts and today as that Ukraine which is today, is so robbed, what not still today realize his spiritual ideals. And Shevchenko's return to Ukraine is a return, first of all, our national advantage. As in the house - the truth, both force, and will.
Right after meeting the man approached to the mayor of Nikolaev Vladimir Chaika and told:
- Thanks, very well organized. The only desire - that twisted the Ukrainian music on television, radio more often.
Mayor: "I agree, but you know that we can't influence mass media".
Man: "It is so necessary to influence, you have a power".
At this time the secretary of the Nikolaev City Council Vladimir Korenyugin approached to conversation of the mayor and the unfamiliar man and told the man:
- And why changing to retrain if I here was born and grew?
Man: "Nobody retrains you".
Secretary of the City Council: "And you were born in other time, and you grew up not then? Here these here trousers, all this is not since then remained? "
Man: "So I know, you me don't overwind".
Secretary of the City Council: "Yes I am not going to retrain you. People shouldn't overturn the head".
The mayor, seeing that conversation registers in a dictophone, interfered and "measured" the quarreled.
- Quietly, quietly, - he told. - One is necessary also, and another, anybody overwinds nobody. But the statehood has to be. Therefore today on action I told that at us one of tours which is conducted in Nikolaev, is carried out and on this holy site. You see that all of us better it lift each time, better.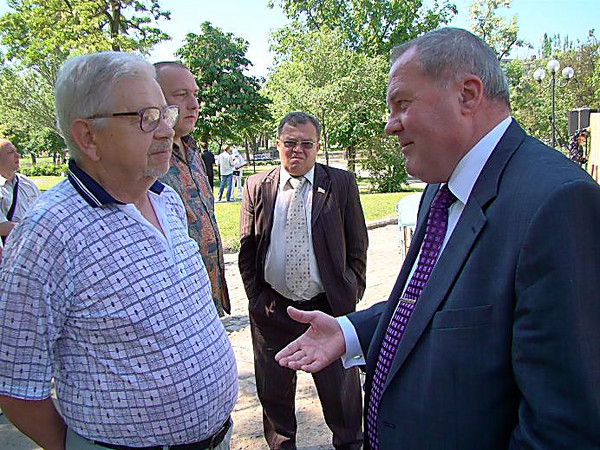 At the left - the unknown man, on the right - the mayor Vladimir Chaika, on a background wearing spectacles - the secretary of the City Council Vladimir Korenyugin
After that officials dispersed on the affairs, simple citizens - on the.