Soccer. Championship of Ukraine. Second league. Agroup
Before game
At the end of the past year Khmelnytsky the City Council liquidated the municipal enterprise "Football club "Podolia — Khmelnytsky". In such a way local deputies gave a start in life of the new - old team - "Dynamo", earlier representing the city in all-Union competitions from 1960 to 1974. The club which has become the assignee of "Podolia" in national championship in group "A" of the second league, the management of regional FSO "Dynamo" took under guardianship. At the beginning of March Vladimir Reva before working in Moldova became the head coach.
Earlier in the national championships rivals met 11 times. IFC "Nikolaev" won six matches, including two on departure. The meeting of the first circle came to the end with Khmelnytsky' victory of football players - 2:1
At guests game was passed disqualified by Lemishevsky and Sholin, at owners - Hlaponin.
Game
IFC "NIKOLAEV"
"DYNAMO"
1
Cholariya
12
Kozibroda
3
Goncharenko
2
Yaremchuk
5
Okhrimenko
4
Gorbiyevsky
18
Mozhaev
6
Grishchuk (85')
19
Voytsekhovsky
7
Ditkovsky
8
Veliyev (82')
9
Slobodyan (78')
10
DOVZHIK
10
Page roar.
16
Komyagin
14
Sergeyev
2
Belous
17
Nikitin (71')
11
Krivoruchko (68')
19
BALITSKII
9
Ротань
20
Yakubovsky
Spare
Spare
121514461022
Bobko Chaus Shimko Lilyk (82') Gorobets Rybak (68') Zhorov
13811162122
Dudnik Shlyakhovy (85') Ore (78') Kolesnikov Bezveshchuk (71') Soloninko Muravsky
The head coach -
Mikhail KALITA
The head coach -
Vladimir REVA
Attendance:On May 24, Nikolaev, Central city stadium, +20о, 3800 viewers.
Arbitrators:V. Chernyshev (Kremenchug), A. Sidoruk, I. Makovey (both is Vinnytsia), I. Ponomarenko (Nikolaev)
Delegate of FFU:B. Dantsker (Mariupol).
Preventions:Okhrimenko (12'), Kozibroda (23')
Goals:1:0 - Ротань (34', foams. ) 1:1 - Grishchuk (53'), 1:2 - Ditkovsky (90+3')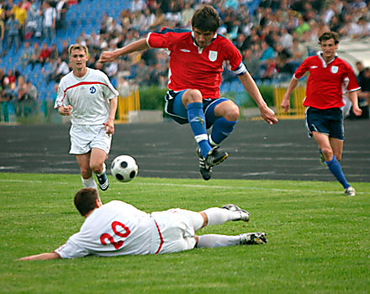 The first the goalkeeper of the rival was disturbed by guests. On 9-й Ditkovsky from a penalty struck to minute blow in a frame, but Cholariya was ready to such turn of events.
Minutes through ten owners took control of an initiative and during a short period four times tried to hit the target. Ротань at the crucial moment I didn't get on a ball, and Komyagin and Dovzhik's blows accuracy didn't cause a stir. Only Krivoruchko on 25-й, it seems, made to minute everything correctly, however the goalkeeper of "Dynamo" Kozibroda played perfectly.
Soon the Nikolaev goalkeeper Cholariya who has transferred to an angular ball after blow of Reva from a penalty proved also. In a minute near gate the defender in fight against Krivoruchko played a hand. Penalty. To 11 - the meter mark accepted Rotan and parted a ball and the goalkeeper on different gate corners. 1:0!
On 37-й to minute almost fast attack of IFC "Nikolaev" came to the end with a goal.Krivoruchko struck with the head of meters from seven, but Kozibroda returned a ball on the angular.
After a break the attacking heat of owners didn't die away. Rotanya from the penalty line reacted to blow the goalkeeper. Dovzhik after Belous's transfer on the right punched very tightly with a bar, and in other episode - directly in Kozibrode's hands. It seemed a little more and the Nikolaev football players will increase the account. But all turned out on the contrary. On 53-й to minute Grishchuk received a pass directly on the center of gate, a number of defenders didn't appear, and the Dynamo member quietly drove a ball in a grid. 1:1.
Nikolayevtsa started recouping, and after angular Goncharenko's giving by the head I struck blow in several centimeters from a rack. Then Rybak who has come for replacement didn't use scoring chances. In one episode the ball after its heading got into a bar, in other - Kozibroda surely played. And on 83-й to minute Grishchuk missed good opportunity to score the second goal.
Last minutes meetings owners advanced to the attack by big forces and on an outcome of the main time after angular Okhrimenko's giving didn't get to gate from five meters.
The match came nearer to end and fans on tribunes were obviously not happy with estimated neutral result. But everything was even worse. Ditkovsky with the connivance of the Nikolaev defenders left in private with Cholariya and threw a ball through the goalkeeper. 1:2. And as a result defeat which obviously I didn't deserve IFC "Nikolaev".
After game
Head coach of IFC "Nikolaev" Mikhail Kalita:
- To deplorable result for us both in Ternopol, and in a match with Khmelnytsky "Dynamo" gave gross tactical blunders in defense. However, in the goals of Cholariya passed today it isn't guilty.
Second problem: the team creates scoring chances, but doesn't realize them. Certainly, we didn't have enough injured Zhorov and Kandaurov, diskvalifitsirovavnny Hlaponin. The IFC "Nikolaev" needed to play two matches on departure, we will finish the championship. Further the team needs strengthening.
Player of a match
The halfback Faramaz Veliyev became the player of a match according to the version "Nikolaev news". It was remembered by the combativity, dedication in fight for a ball.

Review of round
31-й round
On May 24 (Sunday)
Veres - Dnepr -+:-
FC of Korosten - Obolon-2 -- :-
V.'s field - Bukovina -1:0
I grew - the T Field. -1:3
Nafk - CSKA -1:0
Bastion - Reigning-2 -+:-
On May 25 (Monday)
Arsenal - Unity

Ternopol "Field" finishes competitions, as well as it befits the leader. In spring part of the championship Victor Ryashko's wards lost only three points. On a game course with "Rosyyu" they lost, but after a break everything rose on the places. Two balls into gate of owners were hammered by Rozman.
I grew "Nafk", as well as "Dynamo", not knowing bitterness defeat eight matches in a row.
| | | | | | | | |
| --- | --- | --- | --- | --- | --- | --- | --- |
| | | And | In | N | П | M | About |
| 1 | FIELD OF T | 29 | 20 | 7 | 2 | 44:20 | 67 |
| 2 | ARSENAL | 28 | 17 | 4 | 7 | 43:27 | 55 |
| 3 | FIELD IN | 29 | 16 | 7 | 6 | 35:24 | 55 |
| 4 | CSKA | 29 | 16 | 3 | 10 | 31:19 | 51 |
| 5 | DNEPR | 29 | 17 | 5 | 7 | 37:20 | 50 |
| 6 | BASTION | 30 | 14 | 4 | 12 | 34:39 | 46 |
| 7 | BUKOVINA | 29 | 14 | 2 | 13 | 27:31 | 44 |
| 8 | DYNAMO | 29 | 12 | 5 | 12 | 28:39 | 41 |
| 9 | NAFK | 28 | 12 | 4 | 12 | 38:31 | 40 |
| 10 | VERES | 29 | 11 | 5 | 13 | 20:28 | 38 |
| 11 | ROS | 29 | 10 | 7 | 12 | 34:34 | 37 |
| 12 | UNITY | 28 | 11 | 3 | 14 | 26:31 | 36 |
| 13 | IFC NIKOLAEV | 29 | 9 | 9 | 11 | 24:26 | 36 |
| 14 | CARPATHIANS-2 | 29 | 8 | 7 | 14 | 23:35 | 31 |
| 15 | FC KOROSTEN | 29 | 8 | 2 | 19 | 24:39 | 23 |
| 16 | OBOLON - 2 | 30 | 5 | 4 | 21 | 20:31 | 19 |
| 17 | REIGNING-2 | 30 | 4 | 2 | 24 | 15:35 | 14 |
32-й round, on May 30 (Saturday)
Bukovina - IFC Nikolaev
Dnepr - the Carpathians-2
T field. - Nafk
Dynamo - Khmelnytsky - Ros
Оболонь-2 - V.'s Field
Unity - FC of Korosten
Reigning-2 - the Arsenal
On May 31 (Sunday)
CSKA - Veres