Yesterday in time a press - conferences the president of NOC of Ukraine Sergey Bubka handed over a memorable figurine, the diploma and a monetary award to the best athlete of April-2009 - to the owner of two gold and silver awards of the European championship on a diving to Ilya Kvashe. About it reports a site of the Olympic committee of Ukraine.
Sergey Bubka declared that it was heaviest to choose the hero of month. However for the solution of such difficulties the Commission of experts of experts which in details analysed speeches of all athletes also is created and recognized as the best athlete of April the diver Ilya Kvashu.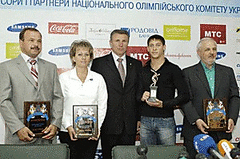 Sergey Bubka reminded that almost a year ago - in March 2008-wow - Ilya already awarded as the best athlete of month. Then, on continental superiority in the Dutch Eindhoven, the diver won a gold and silver medal.
According to the chairman of NOC, in the Italian Turin Kvasha spoke at the present European championship already in the rank of one of applicants for the highest places and completely proved the great skills.