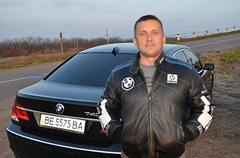 To a position of the first deputy head of the Public fiscal service in the Nikolaev area advance the son of the Nikolaev deputy - the regional.
About it "Crime. Is NOT PRESENT" it became known from sources in the Nikolaev regional public administration.
So, according to the interlocutor of the edition, soon at the head of the Public fiscal service in the Nikolaev area Vladimir Kopitsa to appear the new first deputy. It will appoint Roman Podgorodinsky - the son of the deputy The Nikolaev regional council elected from Party of Regions, Nikolay Podgorodinsky.
We will note that Roman Podgorodinsky was appointed to a position of the deputy a year agothe chief of USBU in the Nikolaev area also I supervised fight against economic crimes, however, it worked at this position not long and some months later was transferred "to the order".
We will note that Roman Podgorodinsky's father - acting the deputy of the Nikolaev regional council, chosen from Party of Regions, in 2006 consisted in the Socialist party of Ukraine and headed the Veselinovsky regional organization of this party, and also is the director of GP «State farm «Grape valley» , the Veselinovsky region of the Nikolaev area placed in the village of Varyushino, all family of Podgorodinsky from where is.
In addition Roman Podgorodinsky's brother Vadim is the deputy of the Odessa city council from the same Party of Regions and the director of institute of prosecutor's office and a consequence of the Odessa yuriidichesky academy infamous «regional» Sergey Kivalov. At the same time the brother of the new deputy chief Nikolaev SBU has a business - he is the founder of state of emergency «Vadim-2003» , engaged in construction and repair of vessels, and also together with a certain Alexey Bakhchivanzhi he owns open company «Talent» , the engaged oil-extracting industry.
Also we will remind, Roman Podgorodinsky earlier, working in Nikolaev SBU in 2009, I got «in sight of journalists» , when not I could tell anything on a question of correspondents at a briefing about an occasion of corruption business on «It is southern - the Ukrainian NPP» , where the CEO Vissarion Kim was suspected of plunder and assignment of 13 million public funds.